Rookie quartet lifts Marlins over Twins
Rookie quartet lifts Marlins over Twins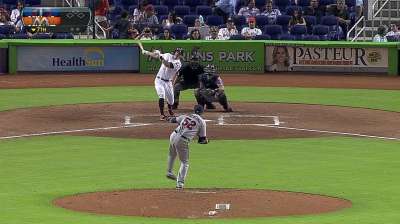 MIAMI -- A quartet of rookies stepped up to help the Marlins take the series opener against the Twins on Tuesday.
Jose Fernandez and A.J. Ramos shined on the mound, while Marcell Ozuna and Derek Dietrich provided the offense to push Miami past Minnesota, 4-2, before 14,581 fans at Marlins Park.
"Everyone is putting in their own little piece, and we are playing together and that's helped us win games," Ozuna said. "That's every player and team's goal. We are playing excellent right now."
Ozuna stepped up to the plate with the bases loaded in the sixth against Twins starter Kevin Correia, and the rookie smacked a one-out single that pushed home Ed Lucas to even the score at 1. Giancarlo Stanton also came around to score after Twins center fielder Clete Thomas could not handle Ozuna's hit cleanly.
The rookie outfielder played a vital role for the Marlins Tuesday, but he credits his success to some advice that teammate Placido Polanco gave him a series ago.
"I faced Tim Lincecum in San Francisco, and in my first at-bat, I popped out to second," Ozuna said. "Polanco told me to think up-the-middle, and I changed the approach and drove in a run. Since then, that's been my approach, because when you think up-the-middle, things get easier. You have a bigger zone to work with."
Dietrich added to the Marlins' lead when he led off the seventh inning with a 415-foot solo homer to right, and Ozuna tacked on another RBI in the eighth, doubling home Logan Morrison to give the Marlins a key insurance run.
"He made a simple adjustment for that at-bat," Marlins manager Mike Redmond said of Dietrich. "He couldn't find his elbow guard, and I told him, 'Don't wear the elbow guard.' And he hit a home run."
But before Ozuna and Dietrich delivered at the plate, Fernandez and Ramos excelled on the mound.
Fernandez held the Twins to one run on four hits over five innings, surrendering a run in the third inning when former Marlin Josh Willingham delivered a two-out, RBI single to center that pushed home Thomas.
"He kept us in it," Redmond said. "You think about a young kid who didn't really have his best stuff, but that was pretty impressive out there. He made pitches when he really needed to, and that's the kind of guy he is."
Fernandez's effort over the first five frames transitioned to a pair of strong relief innings from Ramos, who allowed just one hit while striking out three en route to his second win of the season.
"I like to go out there and compete and do the best I can," Fernandez said. "The most important part for me today was that my stuff was horrible. I was trying to battle through it. I threw five innings and threw 94 pitches. I wanted to go back out, but they decided it was better [that I didn't]. I stayed there to support my team, and we got two runs and then two more. We got the 'W' and that's what matters."
The Twins threatened in the eighth, putting two runners on against reliever Mike Dunn. Trevor Plouffe's two-out single against Chad Qualls drove in Joe Mauer to bring Minnesota within one, but Qualls retired pinch-hitter Chris Parmelee to end the rally.
David Villavicencio is a contributor to MLB.com. This story was not subject to the approval of Major League Baseball or its clubs.