Correia's quality start for naught in tough-luck loss
Correia's quality start for naught in tough-luck loss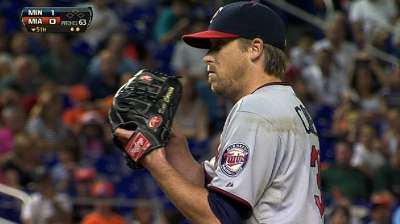 MIAMI -- Twins starter Kevin Correia turned in his third quality start in his last four outings, but he could not outdo rookie Jose Fernandez and the Marlins' bullpen.
Correia's effort was not enough to overcome a poor offensive showing in Minnesota's 4-2 loss to Miami in front of 14,581 fans on Tuesday night at Marlins Park.
The Twins hurler took the hard-luck loss, giving up only two runs on five hits, walking two and fanning two in six innings.
"He pitched well," Minnesota manager Ron Gardenhire said of Correia. "He gave us a chance."
A two-out RBI single from former Marlin Josh Willingham in the third looked like it might have been enough for the Twins. Correia gave up only two hits through his first five frames.
But Correia couldn't protect Minnesota's lead in the bottom of the sixth.
"You know you're going to have a tough inning," Correia said. "You're not going to cruise the whole game. It's just a matter of limiting your damage. It's just frustrating, obviously, to give up the lead right there."
Correia retired 12 of the next 13 batters he faced after surrendering a one-out single to Rob Brantly in the second. Three more one-out singles were his undoing.
Ed Lucas collected a one-out single in the sixth. Giancarlo Stanton followed with a walk, and Logan Morrison notched a one-out single to load the bases.
Marcell Ozuna then put Miami ahead with another one-out single.
"I just made pretty much one bad pitch the whole night," Correia said.
Lucas scored the tying run on Ozuna's base hit, but Stanton came home with the go-ahead run on a fielding error by center fielder Clete Thomas.
"Looked like he just rushed it and didn't get it into his glove," Gardenhire said. "He started looking up to see where the runner was, and the ball just bounced off him."
The Twins made three errors on the night, but only Thomas' miscue led to a run. Still, Gardenhire was displeased.
"We also made three errors in the ballgame," Gardenhire said. "You don't win too many games when you make three errors, either. Whether they cost you runs or not, it's still more pitches pitchers have to throw and more stressful innings out there."
Right-hander Brian Duensing took the hill to begin the seventh in relief of Correia and promptly gave up a leadoff solo home run to rookie Derek Dietrich, increasing the Marlins' lead to two runs.
Dietrich's solo shot, which traveled an estimated 415 feet, was the first home run given up by Duensing in 48 appearances -- a streak of 48 2/3 consecutive innings that dates back to Aug. 25, 2012.
"I gave up a homer to a lefty, which it's my job to get lefties out, and I didn't do that," Duensing said. "It was over the plate. I was trying to get strike one, and he jumped all over it and hit it out. That's his job to do is to put a good swing on the ball. I guess you've got to tip your hat to him.
"I threw the pitch I wanted to throw. I threw it where I wanted to. I wanted to throw it for a strike. I just didn't get the result I wanted."
The insurance run proved key for Miami, as Minnesota mounted a comeback effort in the eighth. Joe Mauer led off the inning with a single, advanced to third on an Oswaldo Arcia single and scored on a two-out single from Trevor Plouffe.
However, Marlins reliever Chad Qualls retired pinch-hitter Chris Parmelee on a flyout to center field with two men on to end the Twins' final threat.
Ozuna added another insurance run in the eighth, doubling home Morrison, who doubled to lead off the inning. The back-to-back two-base hits spelled the end for Minnesota reliever Josh Roenicke, who lasted only one-third of an inning.
Duensing, Roenicke and Caleb Thielbar allowed three hits, walked two batters and surrendered the game's deciding runs in two innings of relief.
The Twins' bullpen leads the American League and ranks second in the Majors with a 2.88 ERA.
"It's frustrating," Duensing said. "Our job is come in and get guys out late, and we didn't do it. For the majority of the year, we've been pretty good, but we struggled tonight. And I guess it ultimately kind of cost us the game a little bit.
"We're relievers, so we'll get another chance either tomorrow or the next day. So, we've got to come back out and have a short memory and try to get the job done that time."
Joe Morgan is an associate reporter for MLB.com. This story was not subject to the approval of Major League Baseball or its clubs.