Hitting well in Triple-A, Bogusevic gets call to Cubs
Hitting well in Triple-A, Bogusevic gets call to Cubs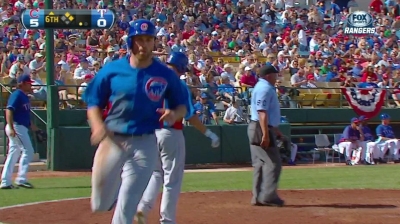 MILWAUKEE -- The Cubs added an extra outfielder Tuesday, selecting the contract of outfielder Brian Bogusevic from Triple-A Iowa.
Bogusevic, 29, takes Carlos Marmol's spot on the 40-man roster after the Cubs designated their former closer for assignment.
The outfielder hit .319 with 14 doubles, three triples, 10 home runs and 32 RBIs in 78 games with Iowa. A left-handed hitter, he stole 16 bases and posted a .929 OPS.
The Cubs expect to face six right-handed starters when they play the Mariners and Athletics beginning Friday, and Cubs manager Dale Sveum said he'll use Bogusevic either as the designated hitter or in left field.
"He'd been playing so well," Cubs general manager Jed Hoyer said. "We felt it was the right thing to do for him. He'd been so good for us, run the bases well, hitting well. It was time to bring him up."
Bogusevic batted .410 in 20 games in Spring Training, but didn't make the 25-man roster. He made some adjustments in the offseason and credited his success to that. He spent all or part of three big league seasons with the Astros, hitting .203 in 146 games a year ago.
"Everything's always still a work in progress," he said.
There's also a little extra motivation for Bogusevic, who was raised in Oak Lawn, Ill.
"It's exciting," he said. "It's a little extra benefit. I'm just excited to be here and be with the team."
Carrie Muskat is a reporter for MLB.com. She writes a blog, Muskat Ramblings, and you can follow her on Twitter @CarrieMuskat. This story was not subject to the approval of Major League Baseball or its clubs.