Rays have confidence in Torres late in games
Rays have confidence in Torres late in games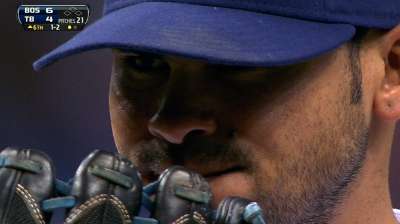 ST. PETERSBURG -- Rays manager Joe Maddon's starter, Jeremy Hellickson, had thrown seven innings of one-hit ball against one of the hottest lineups in Major League Baseball and his standard back-end relievers had each thrown two days in a row.
But Maddon wasn't concerned when it was time to hand the ball to the bullpen against the Blue Jays in Monday's eighth inning. He had left-hander Alex Torres in his back pocket.
Torres did allow his first earned run since Sept. 22, 2011 -- breaking a 25-inning scoreless streak that marked the second longest in Rays history -- but he got out of the inning and the Rays went on to win, 4-1.
"Torres was ready," Maddon said after the game. "Torres was really good. He pitched really, really well. You look at the one run, replay the tape. He pitched well."
He struck out Maicer Izturis before he allowed Emilio Bonifacio to single and walked Mark DeRosa. Another single from Melky Cabrera loaded the bases. Just when Jose Bautista appeared primed to spark a comeback, Torres induced a ground-ball out. He finished off the inning by getting Edwin Encarnacion to fly out to right field.
Torres spent all of last season in the Minor Leagues. He was called up from Triple-A Durham this year to make two appearances in May before being optioned, and was recalled again in June.
"The confidence I have right now is awesome," Torres said. "I feel so great right now. My arm feels good. I know what I'm doing when I make a bad pitch. I'm loose. I have a plan every time I make a pitch."
Torres was starting games for Durham last season and was used in the middle innings earlier this year, but recently, the Rays are using him in the later parts of games.
The next step for Torres is pitching more frequently. He has never thrown on back-to-back days in the Major Leagues. Maddon said Torres is "very close" to pitching in consecutive games.
"It's all about leverage moments, and he's indicated to us that he can get hitters out in tight moments," Maddon said Tuesday. "I don't think it's a stretch to put him out there. He's processing the moment very well."
Sam Strong is an associate reporter for MLB.com. This story was not subject to the approval of Major League Baseball or its clubs.