Beltran recalls Cardinals-Astros NL Central rivalry
Beltran recalls Cardinals-Astros NL Central rivalry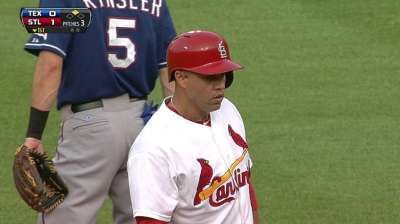 HOUSTON -- Many St. Louis players weren't around for the glory days of the Astros-Cardinals rivalry, but they're about to get a refresher course on what was once one of baseball's healthiest divisional showdowns.
With the Astros switching over to the American League West this year, it's transitioned the matchup from a regular divisional tilt to an Interleague oddity.
"We aren't that far removed [from them being in the NL], so it just feels like we're coming here to play the Astros like normal," said St. Louis manager Mike Matheny. "You take these series for granted sometimes, because that's not the case this time."
The Cardinals and Astros won 10 of 11 National League Central titles from 1996-2006, with the teams representing the league in the World Series for three straight years from 2004-06.
The franchises twice squared off in the NL Championship Series, producing two dramatic and memorable series. The Cardinals overcame a 3-2 series deficit en route to the 2004 pennant, while the Astros bounced back from Albert Pujols' monster Game 5 homer to secure the '05 crown in six games.
"It was the height of the postseason and tense and great baseball," said Cardinals outfielder Carlos Beltran, who played for the Astros in '04. "They were tough, big games. Back then, Houston had a great team. And the Cardinals were right there matching it. A lot of the players on both sides are retired now, but it was exciting times for both sides."
The series is renewed under different circumstances, with the Cardinals a World Series contender yet again and the Astros near the bottom of the division -- similar to their final years in the NL Central.
St. Louis claimed the season series over Houston in five of the last six years, including winning 21 of 30 games in 2011-12.
While Matheny said he's still not used to Houston as an American League destination, he's happy one aspect will be missing from the two games.
"At least we don't have to watch the pitchers bat," he quipped.
Chris Abshire is an associate reporter for MLB.com. This story was not subject to the approval of Major League Baseball or its clubs.