Bruins fan Cishek has rough off-day
Bruins fan Cishek has rough off-day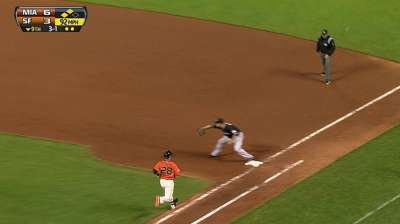 MIAMI - Steve Cishek's Monday could have been better.
The 27-year-old enjoyed his off-day by watching the Stanley Cup Finals, and his Boston Bruins were seconds away from sending the series to a decisive Game 7.
"It was looking good for a while there, and then within 17 seconds, everything changed," Cishek said. "I didn't realize it was that quick."
Cishek's mood changed pretty fast as the Chicago Blackhawks scored two goals in the game's final seconds to clinch their second championship in the last four years.
"When they scored the first goal, I was like, 'It's going to overtime.' And then they scored the other one so quick, that I was just silent," Cishek said. "My stomach dropped a little, and I was like, 'Is this really happening right now?' But it was a great series. It was the most fun playoff sport that I've seen"
The Marlins closer got some more bad news Tuesday morning when he learned the Boston Celtics no longer had Doc Rivers as their head coach. After a string of championships in recent years, the Falmouth, Mass., native admits that it has been hard to be a hometown fan lately.
"I woke up to that, and Doc Rivers is awesome, so that was disappointing," Cishek said. "As a New England sports fan, it's been tough, but the Bruins series was awesome."
David Villavicencio is a contributor to MLB.com. This story was not subject to the approval of Major League Baseball or its clubs.