Royals trip in Braves' first visit to Kauffman
Royals trip in Braves' first visit to Kauffman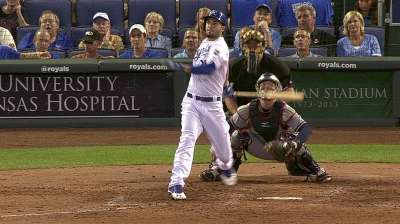 KANSAS CITY -- The Atlanta Braves had never played at Kauffman Stadium before. After a one-game get-acquainted tour, they like it.
The Braves held off Kansas City, 4-3, in an Interleague game as a boisterous crowd of 29,947 enjoyed 87-degree weather on Tuesday night in mid-America. The Royals had played 142 Interleague games at home since 1997 before the Braves finally came to town, the last National League club to call.
The Royals did not lack for offensive chances.
"We had 'em, that's for sure," manager Ned Yost said.
However, they were just 1-for-10 with runners in scoring position and the juiciest opportunity, and most obvious failure, came in the ninth inning.
Facing Braves closer Craig Kimbrel, Mike Moustakas drew a walk to start the Royals' ninth. David Lough singled to right, sending Moustakas to third.
But Elliot Johnson went down swinging on three pitches from Kimbrel, two sliders and a 98-mph fastball.
"Obviously, I looked terrible swinging at that ball in the dirt, but with him throwing that hard, that breaking ball thrown in the dirt looks just like a fastball, especially when you're committing to it as early as I did," Johnson said. "The next one looks like it's going to be up, I'm still looking fastball and then it comes down for a strike, and then 0-2 you're in a tight spot. It didn't work out."
Next, Jarrod Dyson looked at a 2-2 slider for strike three.
"It was pretty nasty. I couldn't get the bat off my shoulder. I thought it was going to be away and it came right in there. I couldn't do anything -- he had some good stuff going on," Dyson said. "I was trying to get to the fastball and he flipped that on me and it was like, good luck. ... He's a fastball-slider guy, but his fastball's so hard, you're waiting on it and you get that [slider], and you just freeze, basically."
During Dyson's at-bat Lough stole second base, so Alex Gordon came up with runners at second and third. After ball one, there was a momentary pause while Gordon cleared bug debris from his eye.
"A moth. One of the thousands that are flying around out on the field right now," Yost said.
After ball two, the Braves opted to walk Gordon intentionally to load the bases. Alcides Escobar came up, went after the first pitch and flied out to end the game.
Earlier, Eric Hosmer lifted the Royals' hopes.
Hosmer, getting back to his old pull-the-ball thing, powered a home run to right field in the fifth inning off Kris Medlen. It came after Escobar singled and gave the Royals a 3-3 tie.
"Medlen was throwing a good game out there and it was a big swing to get us back in the game," Hosmer said. "It was a battle between the bullpens, and they've got a great bullpen and we've got a great bullpen. It just didn't go our way tonight."
The Braves had just scored three runs off Royals starter Ervin Santana with four straight hits in the top of the fifth -- doubles by Chris Johnson, Jordan Schafer and Jason Heyward and a single by Andrelton Simmons.
"Erv did great. He's been doing that all year. He's been pounding strikes, getting ahead and really using his offspeed stuff off his fastball. He was really good tonight," Hosmer said. "That's one of the tougher lineups in the league and they had a couple big swings there."
And Medlen, who pitched seven innings, is a good-luck charm for the Braves. They are 34-12 in his 46 regular-season starts.
So, Heyward presented him with a 4-3 lead in the top of the seventh with a home run to right field off left-handed reliever Tim Collins. He connected on a 0-2 pitch, the third straight curveball from Collins.
"I actually wasn't looking for it," Heyward said. "That whole at-bat, I wasn't necessarily looking for that pitch. But I was on time and didn't miss that one."
Collins didn't want that pitch in the strike zone, but that's where it ended up.
"Right pitch, bad location," Collins said.
Indeed, considering its final location was over the right-field wall.
"He needs to bury it," Yost said. "He needs to have a little more snap on it, but it was just was up a little bit and Heyward put a good swing on it."
It was the first home run that Collins has allowed this season. He hadn't given up one since the Angels' Kendrys Morales connected last Sept. 14, nailing Collins with a 9-7 loss.
Collins took this loss, too. Not that the Royals didn't try to yank the welcome mat out from under the Braves' feet in the ninth inning.
"Just one of those things -- you've got to put the ball in play in those situations to give yourself a chance and we just couldn't do it," Yost said.
Dick Kaegel is a reporter for MLB.com. This story was not subject to the approval of Major League Baseball or its clubs.