Dickerson gets first start at designated hitter
Dickerson gets first start at designated hitter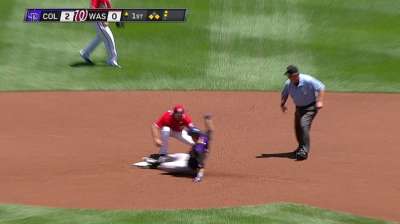 BOSTON -- One of those unique power hitters who chooses to shorten his swing with two strikes rather than continue to swing for the fences, 24-year-old rookie Corey Dickerson earned the start at designated hitter in the Rockies' game against the Red Sox on Tuesday night.
Dickerson has played designated hitter just twice throughout his Minor League career, but he's been locked in this year largely, he says, because he's fully healthy. He had been dealing with tendinitis behind his left knee, which caused agony whenever he ran.
"He's just a really good hitter," manager Walt Weiss said. "It's a pretty simple approach at the plate. It's a leg kick, so he's pretty dynamic, too. But the swing is short and compact and there's a lot of bat speed. He just has a really good feel for the barrel and gets the barrel to the ball a lot."
And after picking up a pair of doubles in four at-bats in his first Major League game on Friday, Dickerson wasn't quite as nervous in the Rockies' clubhouse Tuesday.
"A lot more relieved after that first hit," he said. "I'm a little more confident, but still a little bit nervous with the atmosphere."
Dickerson, who bats left-handed, might have an ideal swing for Fenway Park. With a short right-field porch that often turns doubles into homers, paired with the Green Monster to bounce balls off in left field, Dickerson has a lot of room to work with.
In the Minors, he collected a 1.075 OPS, which would be third in the Majors right now behind only Miguel Cabrera and Chris Davis. But his .389 batting average and low strikeout numbers are what keep him happy.
"I don't like to strikeout," Dickerson said. "With two strikes I just try to put the ball in play, make the defense get me out. I'd rather do that. I'm just trying to help this team. The power will come.
"I'm just trying to take good swings because I want to be an overall hitter. I want to hit for a good average, too. I don't want to be just a power hitter."
In 303 plate appearances with Triple-A Colorado Springs, Dickerson struck out just 43 times while hitting 19 doubles, 13 triples and nine homers. Minus the triples, Dickerson's numbers are eerily similar to those that Troy Tulowitzki has posted at the Major League level this season.
"He makes some adjustments with two strikes," Weiss said of the rookie. "But at the same time it's not like he's up there sacrificing bat speed with two strikes. He still gets his A-swing off. For me, that's always been a good sign for hitters. They may make some mental adjustments with two strikes, but the fact that he still keeps his bat speed with two strikes is impressive."
Jason Mastrodonato is a reporter for MLB.com. Follow him on Twitter @jmastrodonato. This story was not subject to the approval of Major League Baseball or its clubs.