Gardenhire would like DH in all Interleague Play
Gardenhire would like DH in all Interleague Play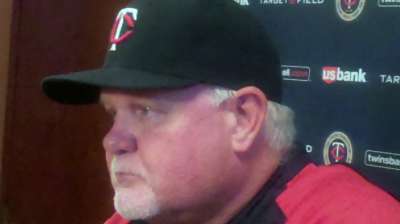 MIAMI -- The Twins' two-game set against the Marlins marks the final time Minnesota will play in a National League park for the remainder of the regular season.
Count Twins manager Ron Gardenhire as someone who is happy with this schedule. Like his fellow American League managers, Gardenhire loses his designated hitter and is forced to bat his pitchers when facing NL opponents on the road.
"When they come to an American League ballpark, they get to add a player," Gardenhire said. "And we, basically, are doing just the opposite. We're putting a pitcher in the lineup and taking out a DH. It does make a difference."
In order to neutralize the difference, Gardenhire suggested that the designated hitter should be implemented for all Interleague games, regardless of venue.
"Let the DH play in both games -- in our park and in their park," Gardenhire said. "I think if they're going to continue [season-long Interleague play], I wouldn't mind seeing [them] just use the DH the whole time. I know it's never going to happen. There's too many people that believe in the no-DH system. I was part of that National League stuff, too. But I would like the idea if they just go DH all the time for Interleague play."
Gardenhire has no issue with pitchers hitting in NL games. He spent his entire five-year MLB career with the Mets.
According to Gardenhire, implementing the DH rule in all Interleague games would benefit both teams.
"Make it the same for both teams," he said. "We play our style, and they play our style. No one's losing anything there. Teams gain. ...
"So, you still set it up with a guy that's just basically a hitter. Over there, they use them as pinch-hitters. We use them as a DH. And your team over there is set up with a couple of good pinch-hitters."
Joe Morgan is an associate reporter for MLB.com. This story was not subject to the approval of Major League Baseball or its clubs.