J-Hey powers Braves to first victory at The K
J-Hey powers Braves to first victory at The K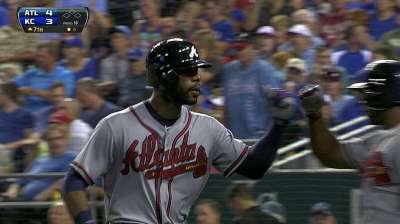 KANSAS CITY -- It is going to take some time for Jason Heyward to erase the statistical consequences of his early-season struggles. But as he has continued to show promise this month, the Braves have gained more reason to be excited about what the young outfielder could provide during the season's second half.
Heyward drilled a decisive seventh-inning home run and drove in a season-high three runs before closer Craig Kimbrel escaped a potentially disastrous ninth inning in the Braves' 4-3 win over the Royals on Tuesday night at Kauffman Stadium.
"That's not the way you draw it up, but we'll take it," Braves manager Fredi Gonzalez said after watching Kimbrel record his 22nd save, despite putting runners at the corners with none out.
Heyward backed Kris Medlen's seven-inning effort with a go-ahead two-run double in the fifth and capped his productive evening with the decisive seventh-inning solo home run off left-handed reliever Tim Collins, who made the mistake of hanging the third consecutive curveball that he threw to the Braves' right fielder.
"Right pitch, bad location," Collins said. "That was the pitch I wanted to throw. I just didn't want to throw it in that location."
Heyward's decisive shot over the right-center field wall was his first home run against a left-handed pitcher in a span of 91 at-bats dating to Sept. 7, 2012. It was also the first home run Collins has surrendered to a left-handed batter this season.
"I actually wasn't looking for [a third straight curve]," Heyward said. "That whole at-bat, I wasn't necessarily looking for that pitch. But I was on time and didn't miss that one."
Heyward struggled through the first two weeks of the season and during the two weeks that followed the month-long stint on the disabled list necessitated by an emergency appendectomy on April 22. But while hitting .297 with four home runs and a .897 OPS this month, Heyward has raised his batting average from .146 to .216 and flashed the tremendous potential he showed during the final four months of last season.
"Obviously, he started a little slow," Medlen said. "But he's a guy that has too good of tools to not hit well."
Medlen surrendered a pair of hits, including Billy Butler's two-out RBI single in the first inning and then pitched around trouble before allowing Eric Hosmer's game-tying two-run homer with two out in the fifth inning.
Hosmer's home run to right-center field erased the damage the Braves did while recording four consecutive hits to begin their three-run fifth inning against starter Ervin Santana, who had allowed a total of three runs in his previous 32 2/3 innings this month.
Before Heyward gave the Braves a 3-1 lead with his two-run double down the right-field line, Chris Johnson and Jordan Schafer also doubled against Santana.
"We had some good at-bats there," Heyward said. "We got pitches to hit. We made sure we were patient enough to get a good pitch. With guys on base with less than two [outs], we just wanted to get them in."
Medlen's biggest mistake came courtesy of the letter-high four-seam fastball that he threw to Hosmer in the fifth inning. It resulted in just the third home run the right-hander has surrendered since the Giants homered three times off him on May 12.
But Medlen did not squander the second chance he was given to notch his third win in June. He ended his outing by using his changeup to strike out each of the three batters he faced in the seventh inning.
"You can't give away two leads," Medlen said. "For J-Hey to come up and hit that ball, I knew I needed to have a nail-down inning."
Before the Braves could celebrate the contributions made by Heyward and Medlen, they had to sweat out the ninth-inning threat that began when Mike Moustakas drew a leadoff walk and then advanced to third on David Lough's single.
With runners at the corners and none out, Kimbrel quieted the threat with consecutive strikeouts against Elliot Johnson and Jarrod Dyson. The Braves' closer then intentionally walked Alex Gordon before seeing Alcides Escobar's game-ending flyball land in Heyward's glove.
Kimbrel has completed 16 consecutive scoreless innings since last blowing a save opportunity on May 7. But while allowing opponents to compile a .281 on-base percentage during this span, he has not been nearly as dominant as he was when he limited opponents to a .181 on-base percentage in 63 appearances last year.
"Whenever you walk the leadoff batter in a one-run ballgame, it puts you in kind of a sticky situation," Kimbrel said. "But we were able to work out of it. [Catcher Brian McCann] called some good pitches and that's why we got out of it."
Mark Bowman is a reporter for MLB.com. This story was not subject to the approval of Major League Baseball or its clubs.