Wheeler shows rough edges in Mets' loss
Wheeler shows rough edges in Mets' loss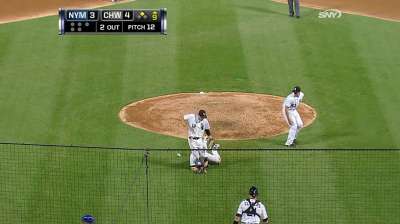 CHICAGO -- Last summer, Matt Harvey spoiled the Mets.
Debuting in July and taking the mound 10 times as a rookie, Harvey produced six quality starts while allowing more than three runs merely once. He was an ace from the day he arrived in the big leagues, even if the Mets did not acknowledge it until recently.
But more often than not, starting pitchers -- even the great ones -- endure steeper learning curves on their paths to glory. Two starts in, it is difficult to say which route Zack Wheeler will take. But if his performance in Tuesday's 5-4 loss to the White Sox was any indication, his path -- at the least -- will be bumpier than Harvey's.
As manager Terry Collins put it, "Zack's going to get a lot better." But such growth will not come without tribulations, such as those he faced Tuesday.
Fresh off six shutout innings in his Atlanta debut, Wheeler was noticeably more vulnerable at U.S. Cellular Field. He allowed four hits, including a home run, and walked three batters. He needed 109 pitches to record 16 outs, and on two separate occasions, he coughed up a lead.
Still, the Mets had a late chance to win, receiving new life when White Sox infielders allowed Daniel Murphy's popup to fall in for a game-tying error with two outs in the ninth -- shades of Luis Castillo against the Yankees in 2009. But LaTroy Hawkins gave up a walk-off single to Alexei Ramirez in the bottom of the inning, meaning the late rally did nothing but take Wheeler off the hook for his first loss.
"It was pretty crazy for sure," Collins said. "We had a chance to get out of it and didn't. Obviously, when we tied the game up, you've got to like your chances."
Andrew Brown's solo homer in the top of the fifth gave the Mets their second advantage over the White Sox, whose own starting pitcher, Chris Sale, proved electric yet vulnerable. But in the bottom of the inning, Wheeler allowed a single to Gordon Beckham, walked Tyler Flowers and threw a wild pitch, which allowed the game-tying and go-ahead runs to score on Alejandro De Aza's groundout and Ramirez's sacrifice fly, respectively.
Wheeler escaped that inning, but he allowed two of the three men he faced in the sixth to reach base, ending his day.
"Everybody goes over some bumps," Wheeler said. "I've got a lot of work to do."
It seemed to be enough support for Sale, who struck out 13 Mets and allowed only four hits over eight innings -- but also three runs. The Mets finally tied the game on Beckham's fielding error in the ninth, which allowed Murphy's popup to fall to the grass as Wright, who singled and stole second, crossed home plate.
Hawkins then opened the bottom of the inning by allowing an infield single to Jeff Keppinger and committing an error of his own on Beckham's sacrifice attempt. The next batter, Flowers, moved Keppinger to third with a ground ball, allowing Ramirez to plate him easily with his two-out single.
"I'm very happy I was able to contribute," Ramirez said through an interpreter. "I concentrated on that pitch and I was able to put a good swing on it and was able to produce that run to win the game."
It sunk the Mets to their second walk-off loss in eight games, leaving Wheeler with a sour taste in his mouth -- even if the late rally allowed him to remain undefeated.
It is dangerous, of course, to compare Wheeler and Harvey, who are different pitchers despite similar skill sets. But it is still important to note their similarities. Harvey, for example, regularly eschewed his changeup last season, but it has become an effective weapon for him this year. As a second-year player, he is throwing his fastball far less often, relying more on his slider and curve. The results have been plain to see.
Harvey has shown a clear understanding of how to adjust to big league hitters, who have been working for 11 months to adapt to him. Wheeler can learn from that, even while pitching within himself.
Already, the rookie seems to be doing so. Though the results were not there, Collins and catcher John Buck both lauded Wheeler's offspeed pitches, which he threw more often than in his debut. As they were for Harvey, those offerings will be key for Wheeler to develop into the pitcher he wants to be.
"You've got to like what you see," Collins said. "Gosh, he's got a live arm. His fastball's got life to it. His curveball today was so much better than it was in his last start. Now if he finds the slider to go along with it and he's got three pitches, he'll get a lot of outs."
Anthony DiComo is a reporter for MLB.com. Follow him on Twitter @AnthonyDicomo. This story was not subject to the approval of Major League Baseball or its clubs.