Gibson establishing routine before Majors debut
Gibson establishing routine before Majors debut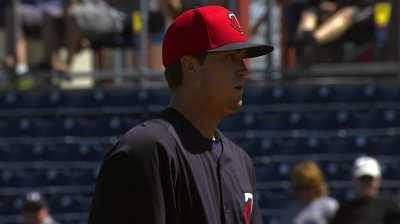 MIAMI -- Kyle Gibson is finally in the Majors.
Gibson, the second-ranked pitcher and No. 4 overall prospect in the Twins' farm system, was recalled from Triple-A Rochester on Tuesday to replace lefty Pedro Hernandez, who was optioned to Rochester following Sunday's game.
He will make his first start on Saturday against the Royals at Target Field.
"It's starting to kick in now," Gibson said during batting practice on Tuesday. "I went out on the field and got to play catch and got to throw a 'pen. Everyone was so welcoming when I came in, shook my hand and said, 'Congrats.' It's a dream come true."
The right-hander's promotion provides a much-needed boost to Minnesota's starting rotation, which ranked last in the Majors with a 5.23 ERA entering Tuesday. Gibson is 7-5 with a 3.01 ERA, and he has held opponents to a .229 batting average in 15 starts with the Red Wings.
Gibson's promotion also comes on the heels of a social media blitz by Twins fans, many of whom have tweeted and printed t-shirts with the slogan, "Free Gibson."
Minnesota has made an effort not to rush Gibson, who underwent Tommy John surgery on his right elbow on Sept. 7, 2011.
"They thought I needed a couple more weeks, and I'm glad they gave it to me, because I was able to really sharpen some things up and work on some things," Gibson said. "My fastball command's a lot better. I'm not being as fine, and I'm going from the middle of the plate to the corners, rather than starting in halves and starting in the corners."
Part of the effort to ease Gibson into the big leagues was the Twins' decision to have him join the team five days before his first scheduled start. Minnesota manager Ron Gardenhire described the club's approach with Gibson as "a really good thing."
"We get all of the prelim stuff out of the way," Gardenhire said. "Let him throw a bullpen session. Let him sit on the bench and watch some Major League baseball games, and that'll help."
Gibson added: "I'm thankful they gave me five days to come up here and kind of get my feet wet."
While Gibson is grateful that he can focus primarily on establishing his routine for a couple of days, both he and the Twins know that the real first step comes on Saturday.
"I don't really know that I can prepare myself too much for that," Gibson said. "That's the one thing that's going to be the most exciting thing. That's probably going to be one of the most exciting things -- leaving that dugout at 3:10 and heading out to field and hoping that I can throw that first pitch right down the middle and get it out of the way."
"Nothing's going to take the place of him walking out to the mound for the first time and stepping out on the mound," said Gardenhire.
Joe Morgan is an associate reporter for MLB.com. This story was not subject to the approval of Major League Baseball or its clubs.