Rangers' winning streak halted by walk-off homer
Rangers' winning streak halted by walk-off homer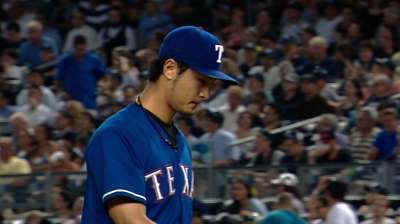 NEW YORK -- The Rangers had a two-run lead going into the bottom of the fifth with Yu Darvish on the mound. That's a game they felt good about winning.
"Of course," catcher A.J. Pierzynski said. "We feel good with anybody on the mound in that situation with the way our bullpen has pitched all year."
But the Rangers weren't able to win this one. Darvish, who had given up a home run to Travis Hafner in the fourth, gave up two more -- to Brett Gardner in the fifth and Jayson Nix in the sixth. That tied the game, and then Ichiro Suzuki finished it off with two outs in the ninth.
Ichiro hit a walk-off home run off reliever Tanner Scheppers to give the Yankees a 4-3 victory over the Rangers on Tuesday night at Yankee Stadium. The loss snapped the Rangers' five-game winning streak.
The loss also came on a night when Leonys Martin hit two home runs in a Major League game for the first time in his career. But, like the four hit by the Yankees, they came with the bases empty.
"I'm glad that happened, but it would have been much better if we won the game," Martin said. "But since we lost, it was just another game."
Martin's second home run led off the fifth inning against Yankees starter Hiroki Kuroda. But the Rangers managed just two singles and a walk in their final 17 plate appearances. Elvis Andrus had one of those singles in the eighth and was thrown out trying to steal second.
Scheppers took over in a 3-3 game and retired the side in order in the eighth. Chris Stewart drew a walk to lead off the ninth and was forced at second on Gardner's grounder. That brought up Ichiro, but Gardner was thrown out at second trying to steal on the first pitch.
Manager Ron Washington had left-hander Robbie Ross ready in the bullpen if he wanted a lefty-vs.-lefty matchup against Ichiro. But Ichiro entered the game hitting .354 against left-handers and .226 against right-handers. So Washington stayed with Scheppers.
"I felt good with Scheppers out there," Washington said.
Scheppers came after him with four straight fastballs at 96-98 mph, and Ichiro hit the last one in the seats to end the game. It was Scheppers' first loss this season.
"Wrong pitch at the time," Scheppers said. "He's a great hitter, and I probably showed him too many fastballs in that at-bat. I probably should have thrown him something different. He likes the ball down and in, and I kind of fed it to him.
"I'll definitely wear that one tonight."
Scheppers does get the loss, but the Rangers have won just once in Darvish's last seven starts since his last victory on May 16. This was the fourth time in those seven starts that Darvish had a lead at some point but the opponent took it away from him.
"That's one you hope Yu holds it down until we can get to the bullpen," designated hitter Lance Berkman said. "They've done a great job this year. But the Yankees have a tough club, too."
"I wish after the ninth inning ... the team had won," Darvish said. "That would have been better."
Darvish, who gave up three home runs in a game for the first time in his career either here or Japan, was finished after 5 1/3 innings and 110 pitches, leaving the rest of the game to a bullpen that has carried the Rangers' pitching staff for the past month. This is the first time Darvish didn't pitch at least six innings since a five-inning outing against the Angels on April 7.
"It feels like a game we should hold on to the lead," Washington said. "It's 3-1 and we've got our ace out there, you feel like we have a chance to win it. It didn't happen."
Washington bristled when asked if Darvish was fine physically.
"He didn't get it done," Washington said. "We're not making any excuses. He's healthy. He just didn't get it done."
The Yankees, after the clubs' first meeting this season, have won nine of their last 12 games against the Rangers, and they are 12-2 against them in the Bronx since the start of the 2010 season.
"It's a great win for us, coming off an off-day and being able to beat a pretty good pitcher," Yankees manager Joe Girardi said. "Yu Darvish obviously has pitched very well the two years he's been here. Kuroda threw another big game, so I think it's a pretty big win."
T.R. Sullivan is a reporter for MLB.com. Read his blog, Postcards from Elysian Fields, and follow him on Twitter @Sullivan_Ranger. This story was not subject to the approval of Major League Baseball or its clubs.