Hinske sits after suspension reduced to one game
Hinske sits after suspension reduced to one game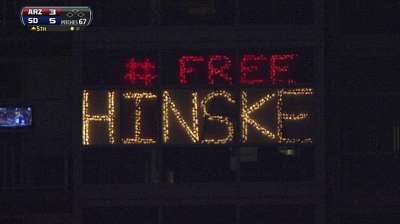 WASHINGTON -- D-backs infielder Eric Hinske had his suspension reduced from five games to one and he served it Tuesday night.
Hinske's suspension was the result of the brawl between the D-backs and Dodgers that took place June 11 at Dodger Stadium. He immediately appealed it and subsequent statements from Dodgers players backed up Hinske's contention that he was not an aggressor in the fight.
"I only heard through my agent and he said that [Major League Baseball] had new video and are admitting that they made a mistake and they want to bring it down to one game," Hinske said.
Hinske's appeal was set to be heard this week while the D-backs were in Washington, but then Hinske got word that the suspension was being reduced.
"Part of me still wants to appeal it because I feel like I did nothing wrong," Hinske said. "But bringing it down four games is drastic. It's a pretty fair thing and the union wanted me to take it so I agreed, thought it was the right thing to do and I'm going to serve it today."
With right-hander Ian Kennedy in the process of serving his 10-game suspension, the D-backs will be playing Tuesday night's game with just 23 players on the 25-man roster.
"It hurts the team and I thought the penalty was excessive and glad to hear that they agreed," D-backs manager Kirk Gibson said of the Hinske decision.
The D-backs have made it clear that they thought the Dodgers got off too easily when it came to the discipline handed down and were particularly upset that Los Angeles outfielder Yasiel Puig was not suspended.
"I definitely feel that Puig should have been suspended," Hinske said. "One-hundred percent. He was the most out-of-control player in that whole thing. Why he didn't get suspended, I don't know. I have no idea. I'm happy I only got one game instead of five."
Steve Gilbert is a reporter for MLB.com. Read his blog, Inside the D-backs, and follow him on Twitter @SteveGilbertMLB. This story was not subject to the approval of Major League Baseball or its clubs.