Ichiro rips walk-off shot to get Yanks past Rangers
Ichiro rips walk-off shot to get Yanks past Rangers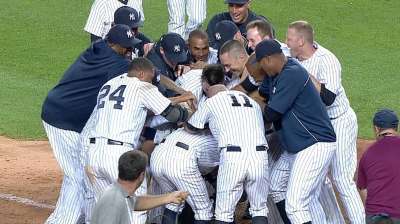 NEW YORK -- On a night that began by trumpeting the 11th matchup of a pair of Japanese starting pitchers in Major League history, it seemed only appropriate that Ichiro Suzuki step in as the last man to swing a bat.
Ichiro delivered a walk-off home run off Tanner Scheppers, lifting the Yankees to a 4-3 victory on Tuesday in a contest that was already elevated to prime time in Japan because of the duel between Yu Darvish and Hiroki Kuroda.
"Any game is very important, but when you're facing their best, especially in the American League -- a pitcher that's always at the top," Ichiro said through an interpreter. "Obviously, we had one of our best in Kuroda, so when you get a win like that, obviously it's a win, but it's kind of a bigger win."
The decisive blast came with two outs and cleared the auxiliary scoreboard in right-center field, marking the Yankees' first walk-off win of the year and their third win in four games. It marked just Ichiro's second career walk-off homer; his first came with Seattle in 2009 off Mariano Rivera.
"It's a great win for us, coming off an off-day and being able to beat a pretty good pitcher," Yankees manager Joe Girardi said. "Yu Darvish obviously has pitched very well the two years he's been here. Kuroda threw another big game, so I think it's a pretty big win."
Rivera picked up his first win of the season after pitching around a single in a scoreless ninth inning. The contest marked the second big league meeting between Darvish and Kuroda, who also went head-to-head on April 24 of last season in Arlington.
"It's not like I'm going to compete against [Darvish], so I pretty much concentrate on facing the hitters more than anything," Kuroda said through an interpreter. "Having two Japanese pitchers starting the game and Ichiro finishing the game, I'm sure over there people are really happy."
Kuroda allowed three runs (two earned) in 6 2/3 frames, serving up a pair of home runs to No. 9 hitter Leonys Martin. But the Yankees enjoyed their first multihomer game since June 6, belting three solo home runs off Darvish as Travis Hafner, Brett Gardner and Jayson Nix cleared the fences.
"That's Yankee baseball. We haven't seen it too much this year, but these guys are obviously capable of doing it," catcher Chris Stewart said. "It's nice that it was a mixture of guys and not just one guy seeing the ball well."
Hafner went deep for his 12th homer in the fourth inning, Gardner tied a personal best with his seventh homer in the fifth inning and Nix slugged a game-tying blast in the sixth off Darvish, who permitted seven hits while walking two and striking out six.
"Darvish was sharp tonight," said Nix, who snapped a 202-at-bat homerless stretch. "He was really mixing up his pitches. It was good to get that one."
Other than Martin's homers off Kuroda, Texas also scored an unearned run in the fourth after David Adams committed a throwing error on a grounder by Adrian Beltre, who came around to score on Mitch Moreland's fielder's choice.
Kuroda permitted five hits in the outing, walking one and striking out six.
"For me, I was concentrating on what I can do on the mound, which is to get outs, but it ended up as an exciting game," Kuroda said. "I was really excited to see how it would end."
That set the stage for Ichiro, who took advantage when Scheppers went back to his fastball and caught too much of the inside part of the plate with a heater.
"I probably should have thrown him something different," Scheppers said. "He likes the ball down and in, and I kind of fed it to him."
That raised an interesting question for Ichiro, who has long held a reputation around the big leagues for being able to homer much more than he actually does.
Stewart said the Yankees have seen that skill in batting practice, as Ichiro gets out in front of pitches and tries to pull the ball. Stewart did not seem to buy that explanation.
"You don't see him do that too much during the game, but obviously he's capable of it," Stewart said. "In certain situations, I think he does. I think he did it there."
Ichiro's response, with a grin, was that he hadn't been trying to put one in the seats, but he was certainly fine with the outcome.
"Look at my arms," Ichiro said. "I can't say that I was trying to end the game there. I'm just happy with the result, that it ended up this way."
Bryan Hoch is a reporter for MLB.com. Follow him on Twitter @bryanhoch and read his MLBlog, Bombers Beat. This story was not subject to the approval of Major League Baseball or its clubs.