LaRoche homers in five-run frame to lead Nats
LaRoche homers in five-run frame to lead Nats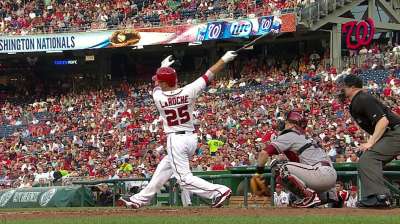 WASHINGTON -- Gio Gonzalez tipped his cap to the crowd as he walked off the field in the seventh inning, his evening done and his first win since May 5 all but guaranteed.
The Nationals led 6-1 when Gonzalez exited the game on Tuesday night, but they were reminded once again that a game -- any game -- is not so easily won. The D-backs roughed up Washington's bullpen, scoring runs off each of the team's three relievers, before Rafael Soriano finally secured the Nationals' 7-5 victory.
Manager Davey Johnson sat down at his postgame press conference and sighed.
"It's never easy, is it?" he said.
It's not. But after the third inning, it sure seemed that way.
The Nationals matched a season high by scoring five runs in the third, the third time they've scored five in one frame this season. After a walk, a sacrifice bunt, a wild pitch and three straight singles by the top of their order, the Nationals led 2-0.
Then with two on and one out, Adam LaRoche broke the game wide open. LaRoche launched an 0-2 changeup from D-backs starter Trevor Cahill into the visitors' bullpen for his 11th home run of the season and his first since May 28.
"To get up early like that, that's really how our offense should operate," right fielder Jayson Werth said. "That's something we haven't done this year and hopefully we can keep it going and play like that more often. If we want to be a championship club, that's something that's going to have to be night-in, night-out."
Gonzalez returned to the mound in the fourth inning with something that he hasn't seen much of this season: a lead.
One year ago, Gonzalez was 9-3 with a 2.55 ERA and a lock to appear in his second straight All-Star Game. This season has unfolded differently. In 10 quality starts before the Nationals' series-opener against Arizona, the southpaw had only three wins.
But that was not the case on Tuesday. Gonzalez allowed just two runs on nine hits over 6 1/3 innings, striking out four and walking just one. Most importantly, he got enough run support to have some wiggle room and pick up his first win in nine starts.
"Seeing these guys come alive, swing the bat, it's always a nice thing to see," Gonzalez said. "You still have to go out there and attack. Especially if your team goes out and gives you a big lead like that, you want to get them back in there as soon as possible, especially when they're swinging it real hot."
Gonzalez was poised and in control until the sixth inning, when D-backs second baseman Aaron Hill, who was playing in his first game since coming off the disabled list, doubled and was brought home after a pair of singles.
Arizona tagged Gonzalez for one more run in the seventh, when he left the game with A.J. Pollock on second base and reliever Drew Storen allowed the catcher to score.
"It looked like he didn't have his best stuff and then he locked it in for three or four innings and then we were able to get a few more baserunners there right before they took him out," D-backs manager Kirk Gibson said of Gonzalez. "[When] a guy like that gets ahead, it's going to be tough."
The Nationals' bullpen was much kinder. Anthony Rendon's eighth error of the season allowed another D-backs run to score in the seventh, Martin Prado hit a solo shot off Tyler Clippard to lead off the eighth and Soriano surrendered a final run in the ninth before picking up his 20th save.
"The bullpen's usually been pretty good," Johnson said, "but we're not used to having a big lead."
The Nationals limped to the finish, but returned to .500 for the 15th time this season. They have not been more than three games above or below that mark since May 17.
"Hopefully, this is something to start us and get us going, but it seems like we've been saying that a lot this year," Werth said. "I'd like to see it happen on the field."
Tom Schad is an associate reporter for MLB.com. Follow him on Twitter @Tom_Schad. This story was not subject to the approval of Major League Baseball or its clubs.