Asdrubal targeting Wednesday as activation day
Asdrubal targeting Wednesday as activation day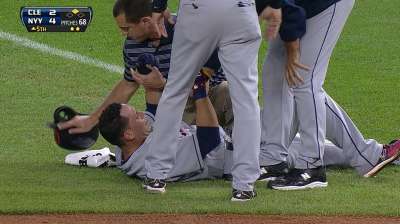 BALTIMORE -- Two-time All-Star shortstop Asdrubal Cabrera walked out of the visitors' locker room on Tuesday afternoon with his bat in hand, headed into the tunnel and toward the batting cage, and is expected to be back in the batter's box on the field within the next two days.
Cabrera, who has been on the 15-day disabled list since June 3 with a strained right quad, declared himself back at full strength and said that he hopes to be activated as soon as Wednesday. He met with general manager Chris Antonetti before Tuesday's game against the Orioles to discuss the situation.
"I had a conversation with Chris today," Cabrera said. "They're going to make the decision today after the game. I've got to wait and see what happens. I hope that it's soon. Maybe tomorrow or Thursday."
Cabrera said that he does not need a Minor League rehab assignment.
"No, I'm going to start here," he said. "I want to start right away with the team."
Cabrera, who has battled the quad issue since at least late April, has hit .254 with five home runs, 18 doubles, two triples, 25 RBIs and 28 runs scored in 53 games. He hit .295 in the 24 games leading up to June 3, when he experienced a setback while running out a ground ball in the fifth inning of a game against the Yankees.
On Tuesday he went through hitting and fielding drills. Prior to Monday's game, he went through a more intense workout that included running the bases at Camden Yards. Manager Terry Francona monitored the gauntlet of activities and was impressed by Cabrera's physical condition.
Francona said on Tuesday that an announcement would be coming soon.
"He's doing really well," Francona said. "We want to let him go through his stuff today. We'll see how he bounces back, and we'll have some information [on Wednesday]."
Cabrera said that his comeback from the injury went more swiftly than he anticipated.
"Yeah, I thought it was going to be four or five weeks," he said. "We're at three weeks right now. I've worked really hard every day to come back and help. I'm 100 percent. I ran the bases [on Monday] and I felt really, really good."
Jordan Bastian is a reporter for MLB.com. Read his blog, Major League Bastian, and follow him on Twitter @MLBastian. This story was not subject to the approval of Major League Baseball or its clubs.