Masterful for six, Masterson falters in seventh
Masterful for six, Masterson falters in seventh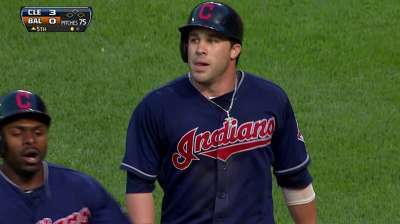 BALTIMORE -- In a span of six pitches, sinkerballer Justin Masterson spiraled from dominance to disaster.
After overpowering the Orioles for six innings on Tuesday night, Masterson fell apart in a decisive seventh and sent Cleveland on its way to a 6-3 loss at Camden Yards. Masterson will have to wait another five days to try for his 10th win of the season, though the Indians can take some comfort in knowing this was only their fourth loss in their last 13 games.
"There in the seventh, it was just a lack of execution on my part," Masterson said. "The guys battled hard, fought hard, scored three runs early. Unfortunately, I gave it back."
The game began to swing Baltimore's way with the first pitch of the seventh.
With the Indians (39-37) holding a two-run lead, Masterson hit center fielder Adam Jones in the back with an errant slider. Slugger Chris Davis had been quiet in the early portion of this series, but he finally made some noise with Jones on first base, crushing the first pitch he saw from Masterson for a two-run homer that knotted the score at 3.
The blast was Davis' 28th of the season.
"I got myself in trouble hitting Jones," Masterson said. "And then Chris Davis does what he's been doing -- he hits a homer. It's a good lineup. We had been working well through six innings, and unfortunately, we got to the seventh."
Masterson's next four pitches sailed wide of the strike zone, leading to a walk to Matt Wieters and prompting a mound visit from pitching coach Mickey Callaway. The brief chat had a brief effect. Two batters later, Chris Dickerson collected an unlikely infield single with a check swing that chopped a pitch down the third-base line.
"That was a really good pitch," manager Terry Francona said. "The guy hits the ball 60 feet, and there's nothing we can do with it."
Second baseman Alexi Casilla then settled into the batter's box with a .205 batting average and no home runs on the season. After a wild pitch allowed both baserunners to move up 90 feet, Cleveland's infield moved in a few steps. Masterson needed a pitch low in the zone to induce a groundout, but he missed his target and left a slider out over the plate.
Casilla's season statistics were rendered irrelevant when he yanked the 1-1 offering into the stands in right-center field for a three-run homer, pushing the Indians behind, 6-3. That sent Masterson (9-6) to the showers on the heels of a disappointing outing, one that started well but unraveled fast.
"We didn't expect that to happen," Francona said. "Masty has been pretty good. He just had a tough inning, and they made him pay for it."
Over the first six innings, Masterson held the Orioles (43-35) to three hits and was perfect through the first 12 hitters he faced. Baltimore's only breakthrough in that span was in the fifth, when Jones ended the no-hit bid with a single to center, and he later crossed the plate on a fielder's-choice groundout from J.J. Hardy.
By the time the smoke cleared, however, Masterson was charged with six runs on six hits in 6 1/3 innings. The big righty struck out seven, walked one and logged 97 pitches in the loss.
"He's phenomenal. He's one of those elite guys," Orioles outfielder Nate McLouth said. "He completely dominated us through four innings. We were just going up there hacking, trying to put something together. A lot of times you're not going to be able to, but tonight we were."
Orioles right-hander Chris Tillman (9-2) earned the win after limiting the Tribe to three runs on four hits in seven innings. Two of the runs he surrendered came on a home run by Jason Kipnis, who sliced a pitch to deep left-center in the fifth inning for his 10th homer of the year. Kipnis has now reached base in 27 consecutive contests.
The Indians had other chances against Tillman but came up short.
In the first inning, Tillman loaded the bases with one out behind a single and a pair of walks, but all Cleveland could come up with was one run, on a sacrifice fly from Michael Brantley. The Tribe had another opportunity in the second, when Tillman issued a leadoff walk to Mark Reynolds and then gave up a single to Lonnie Chisenhall. He recovered, though, retiring the next three hitters in order to escape unscathed.
"We had guys on base," shortstop Mike Aviles said. "We just weren't able to capitalize. He made his pitches, and he was able to get out of it. That's what good pitchers do."
That has been one of Masterson's strengths this season.
One inning simply got away from him this time.
"Everything was working well," Masterson said. "And then it wasn't."
Jordan Bastian is a reporter for MLB.com. Read his blog, Major League Bastian, and follow him on Twitter @MLBastian. This story was not subject to the approval of Major League Baseball or its clubs.