Little goes right for Giants in loss to Dodgers
Little goes right for Giants in loss to Dodgers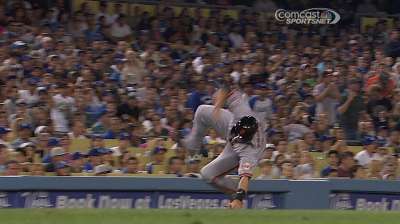 LOS ANGELES -- While steering the Giants to four consecutive winning seasons, Bruce Bochy virtually purged his vocabulary of "buzzard's luck," a phrase he uses when little goes right for his ballclub.
Monday night, however, Bochy dusted off that saying, and for good reason. A sequence of bad breaks helped the Los Angeles Dodgers secure a 3-1 victory over the Giants, who fell to .500 (38-38). It marked the latest that they've reached the break-even level since 2008 -- a year when they never topped that mark, giving Bochy numerous opportunities to use his familiar lament.
"It's buzzard's luck in a game like this, with what happened," Bochy said after the Giants' five-game winning streak against the Dodgers dissolved.
San Francisco's misfortune was manifold as they began their three-city, 10-game trip with their seventh loss in 10 games.
Shortstop Joaquin Arias was removed in the second inning after he strained his left hamstring while scoring San Francisco's lone run. Arias, a right-handed batter, was replacing regular shortstop Brandon Crawford, a left-handed hitter who Bochy figured would have a tough time against Dodgers lefty starter Hyun-Jin Ryu. It just so happened that the Giants loaded the bases in the third and fifth innings without scoring, and Crawford made the final out both times.
Third baseman Pablo Sandoval, recovered from his strained left foot injury, rejoined the lineup. But that was offset by the announcements that center fielder Angel Pagan (left hamstring) will undergo surgery Tuesday and that right-hander Chad Gaudin (bruised elbow) would go on the disabled list.
Sandoval contributed his second of two hits in the fifth inning with the score tied, 1-1. Breaking from second base, Buster Posey appeared destined to put the Giants ahead -- "I don't think there's any question that he would have scored," Bochy said -- but he slipped on the grass as he rounded third base and advanced no farther.
Skill was involved in the outcome, too. The Giants discovered that Dodgers rookie sensation Yasiel Puig is worth the hype. Puig rapped three hits, including an RBI single that broke a 1-1 tie in the eighth inning.
Giants starter Madison Bumgarner, who retired 16 of 17 batters and didn't allow a hit between Puig's first-inning homer and sixth-inning single, finally lapsed in the eighth.
Nick Punto, inserted as part of a double-switch in the top of the eighth, doubled to open the Dodgers' half of the inning. Bumgarner fielded Mark Ellis' sacrifice-bunt attempt and threw high to first base, leaving runners at the corners. Facing reliever George Kontos, Puig lined his go-ahead hit, which barely eluded a diving Crawford.
Javier Lopez coaxed Adrian Gonzalez's groundout after throwing a wild pitch that advanced the runners to second and third. That errant delivery enabled Ellis to score when Crawford couldn't hold on to Hanley Ramirez's line drive.
Asked how the Giants can cope with their recent run of frustration, Posey recommended perseverance.
"I think you try on past experiences and past successes and know that we've done it before," he said. "It's a matter of keeping on grinding every day."
Bumgarner echoed Posey.
"Things are not coming easy for us right now," the left-hander said. "The main thing is to fight through it."
Asked how the Giants can deal with injury upon injury, Bumgarner replied, "That's a good question. I hope we don't have to take any more. It's been tough on us so far. I believe in the guys we have out there right now. I think everybody else does."
Puig's homer ended Bumgarner's stretch of 16 consecutive scoreless innings against the Dodgers.
"That didn't make much sense to me," Bumgarner said of Puig's opposite-field drive to right, wondering how the prodigious 22-year-old could adjust to an outside changeup after seeing two inside cutters. But Bumgarner continued to win admirers, even as his personal three-game winning streak ended.
"It's the same old story. He's tough on us and we're having a hard time figuring out that riddle," Dodgers catcher A.J. Ellis said. "Fortunately, our pitchers kept us in the game and gave us a chance to scratch something across."
Chris Haft is a reporter for MLB.com. This story was not subject to the approval of Major League Baseball or its clubs.