Giants send down reliever Machi, add Kontos
Giants send down reliever Machi, add Kontos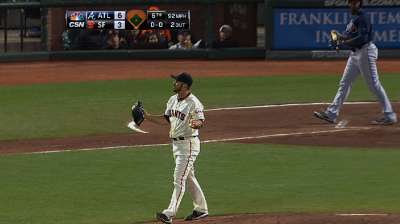 LOS ANGELES -- The Giants exchanged right-handed relievers with Triple-A Fresno on Monday, recalling George Kontos and optioning Jean Machi to the Minors.
Machi was 2-0 with a 3.86 ERA in 25 appearances with the Giants, but he allowed six runs in 3 1/3 innings spanning his last five outings. That stretch ended with a two-thirds-inning performance against Miami on Sunday in which he surrendered four runs and four hits, including two homers.
"He showed signs of fatigue," Giants manager Bruce Bochy said. "This will allow him to catch his breath and get back on track. I think he did a great job when he was fresh, helping set up."
Kontos, who also showed signs of being worn down when the Giants optioned him to Fresno on June 12, was 2-1 with a 3.52 ERA in four Triple-A games. He's appealing a three-game suspension that he received the day he was demoted for throwing a pitch at Pittsburgh's Andrew McCutchen the night before. Kontos remains eligible to perform while appealing his penalty.
In another bullpen-related development, Santiago Casilla (right knee) demonstrated that he's closer to being reinstated from the disabled list by throwing off a mound. Bochy said that Casilla could throw to hitters Wednesday, which would be one more significant test to pass.
Chris Haft is a reporter for MLB.com. This story was not subject to the approval of Major League Baseball or its clubs.