Thanks to Blanks, Padres win after improbable rally
Thanks to Blanks, Padres win after improbable rally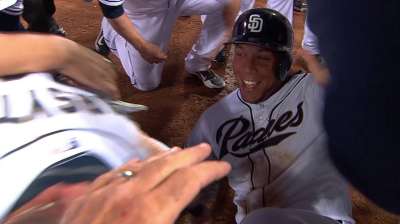 SAN DIEGO -- It's not easy to bring Kyle Blanks to the ground -- he is 6-foot-6 and 265 pounds. But after he singled home the game-winning run in a stunning 4-3 Padres victory in 10 innings over the Phillies on Monday, a mob of his teammates met him at first base and took him to the dirt as they started their celebration.
It was Blanks' second career game-winning hit, and it came with the bases loaded off Phillies reliever Justin De Fratus (2-1) to seal an improbable comeback and top off one of the best performances of Blanks' career.
He had his first career four-hit game, drove in three of the Padres' four runs and scored the other -- the game-tying run on a passed ball in the ninth.
"I kind of had that in the back of my mind," Blanks said about his four-hit performance. "It's been kind of that elusive game for me."
The Padres' offense looked lifeless for most of the game, and that was largely because of Phillies starter Cliff Lee, who came out to start the ninth inning leading 3-0.
"A guy like Cliff Lee in the ninth inning with a shut out, his pitch count was low 100s but he was still throwing the ball great," Padres manager Bud Black said. "Looks a little bleak."
The Padres had opportunities in the sixth and seventh innings with runners in scoring position, but couldn't capitalize as Lee worked his way out of trouble.
Then came the ninth. Carlos Quentin started the rally with a single into left, then Chase Headley followed with a double, knocking Lee out of the game and bringing on Phillies closer Jonathan Papelbon.
The next batter was Blanks, who delivered a two-run single into center. Blanks eventually made it to third base, and with Mark Kotsay pinch-hitting, a passed ball got by Carlos Ruiz, allowing Blanks to score the tying run.
"That was a close play," Black said. "Here at Petco it's a little short from home plate back to the backstop, and with the padding it's a pretty true kick most of the time for the catcher."
Said Blanks: "I saw the swing and just kind of saw the ball pop through, and I mean it wasn't my best reaction to it, but it was enough that obviously I had enough time to get there."
It was the third consecutive blown save for Papelbon, and fourth in his last five outings.
The rally spoiled another dominant performance by Lee, who came into the game with a 9-2 record and a 2.53 ERA, and had won his last seven decisions. On Monday, he struck out seven in eight-plus innings and was charged with two runs.
"It's definitely heartbreaking," De Fratus said. "Anytime Cliff has a lead you feel pretty confident that this game is ours. It just fell apart at the end. There is no reason why, no excuses."
The comeback took Padres starter Eric Stults off the hook for a loss after he pitched well, allowing two runs on seven hits in seven innings.
Stults didn't get any help from his offense, which had no answer for Lee most of the game. The left-hander didn't allow a baserunner until the third inning, and Lee promptly erased him by getting the next batter to ground into a double play.
The Phillies (36-41) scored their first run in the second inning. John Mayberry Jr. nearly grounded into a double play, but he was ruled safe at first on a close play. He promptly swiped second and scored on Ruiz's RBI single.
Mayberry scored the Phillies' second run as well, as he led off the fifth with a double, moved to third on a Ruiz single and scored on Jimmy Rollins' sacrifice fly.
Tommy Layne came on in relief of Stults in the eighth and surrendered a solo home run to Chase Utley, the only batter he faced, to extend the Phillies' lead to 3-0.
But that was all the Padres' bullpen would allow, even after the Phillies threatened in the 10th, as an error by center fielder Chris Denorfia put a runner in scoring position with one out.
Denorfia lost the ball on the exchange after making a catch as he attempted to throw out Rollins, who was tagging from first base. That allowed Rollins to go to third, but Luke Gregerson and Joe Thatcher (3-1) retired the next two batters.
Denorfia would get his redemption, making the grab for the final out of the inning before scoring in the winning run.
Jamal Collier is an associate reporter for MLB.com. This story was not subject to the approval of Major League Baseball or its clubs.