Gyorko to play rehab games before return from DL
Gyorko to play rehab games before return from DL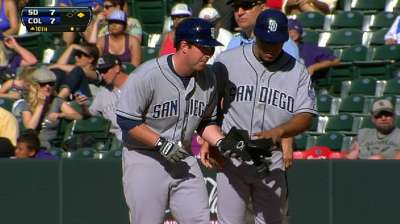 SAN DIEGO -- If all goes well for injured second baseman Jedd Gyorko, he could rejoin the Padres this weekend in Miami.
Gyorko is eligible to come off the 15-day disabled list on Tuesday, but manager Bud Black said the rookie will play one or two rehab games in the Minors before that.
"I think it's probably wise that we get him out to make sure that the groin is fine," Black said. "That he can withstand playing a ballgame and all that's entailed about getting loose, taking batting practice, playing in a couple games before the big league level."
Gyorko strained his right groin running the bases during a game on June 10 against the Rockies. On Monday he hit, took ground balls and ran the bases, all without pain.
The Padres haven't decided whether Gyorko would begin his rehab assignment on Tuesday or Wednesday.
"We're working through the scenario of getting Jedd out to play in a Minor League game or two, and then from that point on we'll see how his leg is doing," Black said. "Then we'll make a determination whether he joins us when we're on the road."
Gyorko's return will give the Padres one of the best hitters in their lineup back. Gyorko is hitting .284 with eight home runs and 25 RBIs, and he had a .325 average in nine games in June before getting hurt.
Jamal Collier is an associate reporter for MLB.com. This story was not subject to the approval of Major League Baseball or its clubs.