Bullpen shuffling continues as Layne recalled
Bullpen shuffling continues as Layne recalled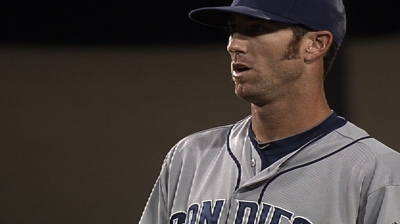 SAN DIEGO -- When starter Clayton Richard left Friday's game with an injury after throwing only two pitches, the Padres' bullpen was left to pick up the slack and throw all nine innings. The club has been trying to replenish its 'pen ever since.
The Padres made another roster move on Monday, the third consecutive day involving the bullpen, recalling left-hander Tommy Layne from Triple-A Tucson. In Monday's 4-3 win in 10 innings over the Phillies, Layne pitched to one batter, Chase Utley, and allowed a solo homer in the eighth inning to give Philadelphia a 3-0 lead.
The move comes just 10 days after Layne was sent down to the Minors. In six games for the Padres this season, he is 0-1 with a 1.59 ERA with four strikeouts.
The corresponding move sent righty Miles Mikolas back to Tucson. Mikolas was recalled prior to Sunday's game, but he did not make an appearance. Mikolas was in his first stint with the Padres this season after making his debut last season.
Since Saturday, the Padres have had recalled or optioned five different relievers -- Brad Boxberger, Anthony Bass, Mikolas, Layne and Brad Brach.
Andrew Cashner helped give the bullpen some rest by going eight innings on Sunday. That gave some time off to relievers such as Joe Thatcher, Luke Gregerson and Dale Thayer -- who have ranked among the leaders in appearances in the National League.
None of the three pitched the past two days, but Gregerson threw two-thirds of an inning on Monday and Thatcher got one out in the 10th for his third win of the season.
Jamal Collier is an associate reporter for MLB.com. This story was not subject to the approval of Major League Baseball or its clubs.