Reynolds makes happy return to Baltimore
Reynolds makes happy return to Baltimore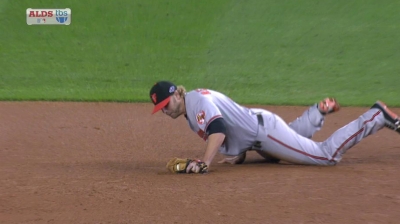 BALTIMORE -- A close-cropped Mark Reynolds sat in the visitors' dugout on Monday afternoon, swarmed by reporters and camera crews, prompting him to wonder aloud if something was up. Nearby, his Indians teammates teased that perhaps the 29-year-old infielder had been traded, mock-asking if he'd entered Camden Yards and headed to the wrong side out of habit.
"It's easy to say it's just another game," said Reynolds, who spent two seasons with Baltimore before being non-tendered this winter, "but it's going to be weird playing against these guys that I have such great relationships with. I'm going to have fun, and whatever happens, happens."
Reynolds, who followed his media session with some brief greetings to local reporters, made a beeline for the Orioles' on-field batting-practice session to exchange hugs and catch up with his former teammates.
An important part of last year's playoff run, Reynolds was the starting first baseman down the stretch for a close-knit club that he still keeps tabs on.
"It's good to be back," said Reynolds, who is from Virginia Beach and played at the University of Virginia. "I miss playing here, I miss the guys, I miss the city. But where I'm at now is a good situation, a great team, great manager. We are winning games, and it's a good new chapter for me."
Reynolds, who signed as a free agent with Cleveland in the offseason, made it no secret that he wanted to return to Baltimore, but the club opted to go another route. The Orioles wanted to give Chris Davis, who is hitting his way into the American League MVP race, the everyday spot at first base, and bringing back Reynolds -- even after declining his $11 million option -- simply didn't fit into the budget given what he would have earned in arbitration.
"We would have liked, in a perfect world, to have him back," Orioles manager Buck Showalter said of Reynolds, acquired prior to the 2011 season in a trade with the D-backs. "It worked out for him. ... It's one of those things, kind of frustrating, but you understand the way a lot of things work. You can do this, but that means you can't do that, you can do that, but that means you can't do this. You know, Mark is in a good place -- a good organization, a good manager, good teammates. I know our guys, and I like Mark. A good teammate. An easy guy to manage. [We] would have liked to have him, it just didn't work out. It's Cleveland's benefit to have him. "
"I moved on," Reynolds said of getting over the disappointment of not receiving a return offer from the Orioles. "Like I said, I'm in a great situation now -- a great group of guys, a great manager, a great city -- and I'm focusing on what we are trying to do and win some games for the Indians."
Reynolds, who started at third base on Monday, began the season by hitting .301 with eight homers and 22 RBIs in April. He's cooled off since, batting .231 on the season, including a .164 mark so far in June.
"Obviously, it's had its ups and downs, that's me," he said. "I started out good, didn't dig myself in a hole like I did last year, and I'm trying to stay afloat right now."
Brittany Ghiroli is a reporter for MLB.com. Read her blog, Britt's Bird Watch, and follow her on Twitter @britt_ghiroli. Derek Wetmore is an associate reporter for MLB.com. This story was not subject to the approval of Major League Baseball or its clubs.