Hellickson, three straight blasts end Jays' win streak
Hellickson, three straight blasts end Jays' win streak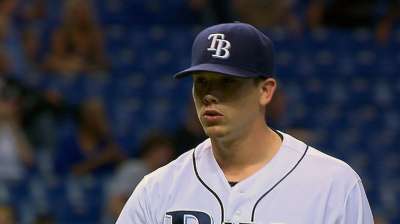 ST. PETERSBURG -- Wil Myers' home run trumped everything on the excitement meter, but Jeremy Hellickson's outing might have been the best thing that happened for the Rays on Monday night.
A combination of the former and the latter added up to 4-1 Rays win that ended the Blue Jays' 11-game winning streak.
The win moved the Rays to 40-37 and into sole possession of fourth place in the American League East as both the Rays and Blue Jays entered the day five games out of first place.
Not since Evan Longoria first arrived on the scene in 2008 have Rays fans been so enamored with a newcomer. And Myers did not disappoint the crowd of 11,407.
James Loney hit his ninth home run of the season with one out in the second to bring Myers to the plate for his first at-bat at Tropicana Field. Blue Jays starter Esmil Rogers got ahead in the count 1-2 before Myers connected, powering a 422-foot drive over the center-field wall that struck the center-field restaurant with such force that it ricocheted back onto the field.
Sam Fuld followed with a home run as the Rays went back-to-back-to-back for a 3-0 lead.
"Really nice to get it going like that," Maddon said. "Their pitcher was pretty impressive, Rogers, I can see why he's doing well. He's got a really good bowling-ball sinker he's developed and other pitches. So it's nice to get those three points in a hurry."
The rest was up to Hellickson, who has been in the midst of a strange season. Heading into Monday night's start, he had surrendered three or more runs in an inning in eight of his 15 starts. Many of those nights saw him seemingly in a cruising mode when a trap door would suddenly open. A crooked number by the opposing team would follow.
Just not Monday night.
Hellickson rode in on a four-game streak that contained no walks. Of little surprise, he won three of those four starts.
He walked Colby Rasmus in the second inning, breaking his club-record-tying streak. Alas, any pitcher can afford to issue a few walks when he only allows one hit.
Along the way, Hellickson did receive the help by Rays fielders that seems to be a given. Of particular note was the 3-6-3 double play in the second inning engineered by Loney, who fielded Maicer Izturis' grounder and threw a strike to shortstop Yunel Escobar, who tagged second and threw back to Loney covering the bag. The play ended the inning and stranded a Blue Jays runner at third.
Hellickson exited with seven scoreless frames in the rear-view mirror to claim his sixth win of the season.
"It feels really good [to eliminate the big inning]," Hellickson said. "It's not fun to give up that big inning, especially when the guys are scoring runs for me. It's definitely nice to eliminate the damage tonight."
Hellickson entered the game with the highest ERA in the AL at 5.50. Only once before in his career had he allowed just one hit -- the final game of 2012, when he threw 5 1/3 scoreless innings against Baltimore. Clearly, Maddon liked what he saw from the right-hander Monday night.
"Helly, when I shook his hand at the end of the game in the dugout, he had that satisfied look, 'That felt good, yeah, that's what it's supposed to be like,'" Maddon said. "He had that and I really believe that you could see him gain momentum. Out of all the starts this year that he may have pitched well, tonight was the game that I think may have righted the ship for him."
Alex Torres pitched the eighth and allowed a run, snapping a 25-inning scoreless streak that dated back to Sept. 24, 2011. Fernando Rodney added a scoreless ninth, converting his seventh consecutive save opportunity to mint his 16th save of the season.
"The three home runs hurt right there, but their pitching shut us down," Toronto manager John Gibbons said. "Hellickson was really good. The bullpen -- what are you going to say? That was the story of the game today. ... But it's been a nice little streak, you know?"
Bill Chastain is a reporter for MLB.com. This story was not subject to the approval of Major League Baseball or its clubs.