Beach ball or not, bounce doesn't favor Butler
Beach ball or not, bounce doesn't favor Butler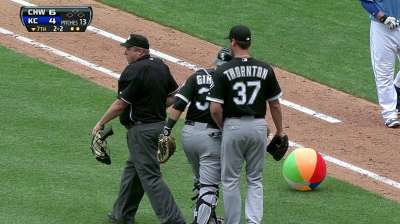 KANSAS CITY -- A bouncing beach ball fell onto the Kauffman Stadium field from the stands on Sunday and seemed to be part of a disputed call at home plate but, in actuality, it had nothing to do with it at all.
As the beach ball bounced in foul territory near the Royals' dugout during the seventh inning, Billy Butler swung at a two-strike pitch and home-plate umpire Bruce Dreckman called a foul ball. The ball bounced away from White Sox catcher Hector Gimenez, who retrieved it and threw to first base where Butler was called out by umpire Dan Bellino.
Players at the end of the Royals' dugout thought that Bellino had called time out when the beach ball rolled onto the field which would have nullified the pitch and the out. Meanwhile, the four umpires conferred in the middle of the infield -- not to discuss the beach ball, but whether or not Dreckman's call of a foul ball was correct.
The other umpires told him that Butler did not foul off the pitch, but had missed and therefore was out. When Royals manager Ned Yost asked Bellino about calling time out, the ump said he did not and play was live.
"When I went out there, [Dreckman's] explanation was 'I called it too quick and I missed it. We got together and we got it right. You want us to get it right -- right?' " Yost said. "That would be my argument if I was on the other side -- just get it right. And they did."
The play had no effect on the Royals' 7-6 victory. Butler finished 1-for-4, including an RBI single in the Royals' three-run fifth inning.
Dick Kaegel is a reporter for MLB.com. Kathleen Gier is an associate reporter for MLB.com. This story was not subject to the approval of Major League Baseball or its clubs.