Late homers earn split behind short-rested Capuano
Late homers earn split behind short-rested Capuano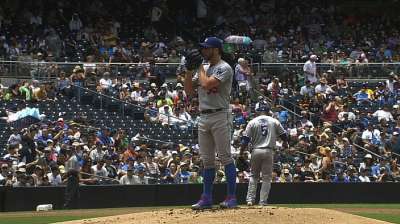 SAN DIEGO -- Back-to-back homers in the ninth inning Sunday gave the Dodgers back-to-back wins over the Padres, and maybe set the needed tone if they are to climb from last place back in the National League West and into contention.
"I hope we're saving the best for last," said manager Don Mattingly, whose Dodgers followed Saturday's win by pulling this one out in the ninth, 3-1, to split the four-game series.
Starter Chris Capuano stepped up on short rest with five scoreless innings. Third- and fourth-hitters Adrian Gonzalez and Hanley Ramirez, both of whom homered in Saturday's win, went back-to-back off Huston Street with one out in the ninth. Juan Uribe continued his quiet comeback with a pair of doubles and an RBI. The bullpen picked up the final four innings for a Brandon League win and a Kenley Jansen save.
"Games like yesterday and today should be the norm for this team," said Capuano.
Of course, nothing is really normal with this year's Dodgers, especially not the circumstances of Sunday's starting pitcher. Over the winter, the Dodgers signed Zack Greinke and Hyun-Jin Ryu, knocking Capuano out of their rotation, and now they can't start him often enough. He bailed out the club that essentially bailed on him, starting on three days' rest for the first time in nearly eight years, before he had a pair of Tommy John surgeries.
After straining a lat muscle in late May, he came off the disabled list to pitch six scoreless innings and win the nightcap of Wednesday's doubleheader against the Yankees that was necessitated by Tuesday's rainout.
But that left the Dodgers needing a starter Sunday, because Hyun-Jin Ryu, who also started Wednesday and whose turn it was to pitch Sunday, has never pitched on short rest.
So Capuano volunteered and was just as crafty as he was in New York, with five strikeouts (including career No. 1,000) and no walks, throwing 74 pitches and not allowing a runner past second base. It's a pretty good survival story for somebody bounced from the rotation when the club signed Ryu and Zack Greinke as free agents.
"He kind of saved us today from making a roster move and all kinds of stuff," Mattingly said. "He'll keep our rotation in some kind of flow. We've needed a next guy after [Clayton] Kershaw, Greinke and Ryu."
Capuano allowed four hits, including Chris Denorfia's line drive that nailed Capuano in the back of his left hamstring. He wanted to pitch the sixth inning, but said Mattingly was "adamant" about not pushing him further.
"Me and Rick [Honeycutt, the pitching coach] worked on some mechanical things and I was able to locate better," Capuano said. "My fastball movement was better, especially away from right-handed hitters."
And without an overpowing fastball, Capuano needs sharp command, as a former left-hander appreciated.
"He's working the outside part of the plate and we couldn't get to him," said Padres manager Bud Black. "Every now and then he'd whip a fastball inside, but it was more down and away he'd nip the outside corner, change speeds on the ball away. He pitched well."
Uribe's second double of the game off Andrew Cashner cashed in a Gonzalez double for a brief 1-0 lead in the seventh. Carlos Quentin homered off Peter Moylan to lead off the bottom of the inning, but Mattingly praised Moylan for pitching two innings to "get to the back-end guys."
Paco Rodriguez retired his two batters in the eighth, Brandon League got his one, with a scrambling stop from Uribe at third base, and Jansen overcame a two-out single in the ninth from Quentin by fanning Kyle Blanks for his fourth save.
Offensively, with one out in the ninth against Street, Gonzalez pulled his 10th home run to right field for his 47th RBI and was immediately followed by Ramirez's third homer of the week for the team's first back-to-back home runs of the year.
"We were still celebrating my home run when Hanley hit his and it kept the celebration going," said Gonzalez, the former Padres fixture. "It was like an after-party."
Now, the Dodgers, nearly three months into the season, try to match their longest win streak of the year -- three -- which they haven't done since the second series of the year, returning home to host the Giants.
"You can't put a string together without three," said Mattingly. "We're not going to be the team we're starting to look like without putting together a string. We've talked a number of times about getting the momentum going, then we seem to stall. I hope this time we go out and get a well-pitched game, and put some runs on the board and see where we go."
Ken Gurnick is a reporter for MLB.com. This story was not subject to the approval of Major League Baseball or its clubs.