Gaudin questionable to make next start
Gaudin questionable to make next start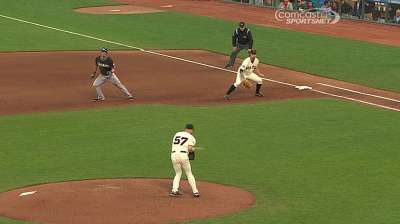 SAN FRANCISCO -- Giants pitcher Chad Gaudin's availability to start Tuesday in Los Angeles is still unknown, manager Bruce Bochy said prior to the start of Sunday's series finale against the Marlins.
Gaudin's scheduled bullpen session between starts was supposed to be Sunday, but Bochy said he and head athletic trainer Dave Groeschner had not yet determined if Gaudin would complete it. He did not throw Saturday as scheduled after a line drive struck him in the right upper forearm Thursday, a play that forced Gaudin to leave the game.
"That's what we're talking about right now between how he feels and what the best thing to do is," Bochy said. "He took a good shot to the arm and he was a little sorer than we expected yesterday."
Bochy said left-hander Mike Kickham, currently with Triple-A Fresno, would start in Gaudin's place if needed Tuesday, as it is his scheduled day to start. Kickham made his Major League debut May 28 in Oakland, when the A's roughed him up for four runs on four hits and four walks in 2 1/3 innings.
Bochy did not rule out the possibility that Gaudin, who is 2-0 with a 3.38 ERA as a starter this season, could start Tuesday even if he does not throw his bullpen session Sunday.
"There are times when [pitchers] don't take a bullpen," Bochy said. "Some pitchers as they get into the season don't throw a bullpen."
Andrew Owens is an associate reporter for MLB.com. Follow him on Twitter @OwensAndrew. This story was not subject to the approval of Major League Baseball or its clubs.