Rosario delivering clutch relief for Giants
Rosario delivering clutch relief for Giants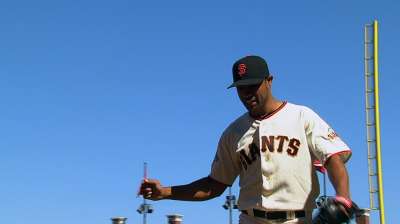 SAN FRANCISCO -- In the 10 days since reliever Sandy Rosario rejoined the Giants bullpen, he has already impressed manager Bruce Bochy.
"He saved us with the job he did," said Bochy of the right-hander, who earned the victory Saturday in San Francisco's 2-1 victory in 11 innings.
In 1 2/3 scoreless innings, Rosario struck out three Marlins and preserved the tie long enough for Hector Sanchez's walk-off bloop single.
"He only had one day off and that's a lot of pitches," Bochy said.
Rosario has thrown a combined 6 2/3 innings of relief in three appearances during the current Giants homestand and has not shied away from emotional reactions to some of the high-leverage outs he has recorded.
"You haven't seen anything yet," Rosario said Saturday. "I'm trying to control myself, but the things I do are crazy."
This is Rosario's second stint in the San Francisco bullpen in 2013. He was optioned to Triple-A Fresno on May 28 to make room for starting pitcher Mike Kickham after Ryan Vogelsong was placed on the disabled list. Rosario has a 2.84 ERA in nine games this season.
Andrew Owens is an associate reporter for MLB.com. Follow him on Twitter @OwensAndrew. This story was not subject to the approval of Major League Baseball or its clubs.