Redmond has fun dissecting first ejection
Redmond has fun dissecting first ejection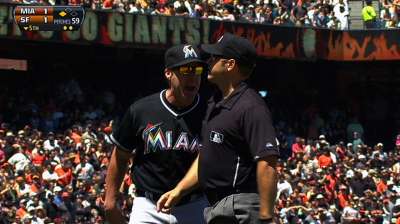 SAN FRANCISCO -- On one of the more bizarre and confusing fan-interference calls you will see, Mike Redmond had his say and was promptly tossed from the game.
In the fifth inning of the Marlins' 2-1 loss to the Giants on Saturday, Redmond was ejected for the first time as a big league manager. It came in his 74th game.
First-base umpire Mark Wegner threw Redmond out for his choice of words after Gregor Blanco was credited with an RBI double on a ball that bounced up the high brick wall in right-center. A fan reached over the wall and pulled the ball out of play.
On interference, it is the umpire's discretion regarding how far the baserunners can advance. It was ruled that Barry Zito could score from first base. Had it bounced into the stands for an automatic double, Zito would have gone back to third.
Redmond on Sunday reflected on his first ejection, which he handled in a more reserved way. He had some fun with getting run for the first time.
"We're all learning out here, and there are probably some things I could have done differently," he joked. "If I analyze the video a little bit, I can definitely be more animated. I can do that.
"I'll look at the video and pick it apart a little bit, and see maybe if there is a better way to get my point across. That makes everybody happy."
Asked about kicking dirt or throwing things, Redmond said: "I think we have to build up for that."
Prior to joining the Marlins, the 42-year-old Redmond managed two years in the Blue Jays' Minor League system.
"I'm sure my ejections were way better in the Minor Leagues, but nobody got to appreciate them because nobody is in the stands," Redmond said. "I think you have to have your own style with that. I'm still working on it. It's my first one. I've got to find my own style; I don't know what it's going to be."
Joe Frisaro is a reporter for MLB.com. He writes a blog, called The Fish Pond. Follow him on Twitter Share This