Morales' pinch-hit heroics top A's in walk-off
Morales' pinch-hit heroics top A's in walk-off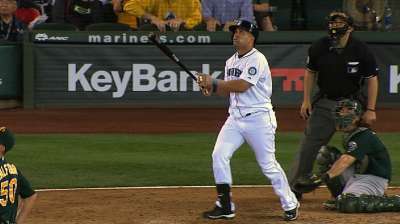 SEATTLE -- Raul Ibanez provided the theatrics for the Mariners, and pinch-hitter Kendrys Morales came through with the heroics. Morales didn't have to work too hard on what was supposed to be his day off, hitting the first pitch he saw over the right-field wall as the Mariners beat Oakland, 6-3, in front of a crowd of 22,813 at Safeco Field on Sunday.
Ibanez hit a pair of home runs to keep the Mariners (34-43) in the game, and Morales did the rest. It was the second pinch-hit walk-off home run in Mariners history.
"[Manager Eric Wedge] talked to me before the game about coming into the game in a late-game situation, and I just had to prepare myself for that. I knew that I was going to come up in a big spot," Morales said through translator Ryan Schmitz.
The win gave Seattle a 2-1 series victory over Oakland (44-34). The Mariners are 8-5 against the A's this season.
Rookie Mike Zunino got aboard for the Mariners in the 10th inning in unlikely fashion, striking out on a wild pitch and then taking first when catcher and former Mariner John Jaso missed on the throw to first.
Center fielder Michael Saunders hit a single, pushing Zunino to third. And then Morales drove in all three with one swing of the bat.
"He was more than ready those last two innings," Wedge said of Morales. "I think he had his helmet on those last two innings, ready to hit, so he was chomping at the bit to get up there."
With two outs in the first, Ibanez hit his second home run in two games, plating leadoff hitter Endy Chavez to put Seattle up, 2-0. It was the fifth time this season that the 41-year old Ibanez has hit home runs in back-to-back games.
"He's obviously done that before in his career. You gain some confidence, too, when you hit a homer off a tough lefty last night," Oakland manager Bob Melvin said. "The first one -- I don't know we got in far enough -- but the second was a good pitch, down, and he just went down and golfed, so he's seeing the ball pretty well.
The veteran slugger admitted after the game that he wasn't swinging for the fences, merely trying to strike the ball well and put it in play.
"I expect to be able to help my team. That's my expectation," Ibanez said. "And I expect to be prepared, and I expect to control the things I can control, which are my attitude and my approach."
Ibanez continued to rake for the Mariners, hitting a solo shot in the fourth inning off A's starter Jarrod Parker-- his third home run in four at-bats -- giving him his team-leading 17th of the season. Ibanez is tied for the AL lead with eight home runs in the month of June.
"He's just such a professional hitter," Wedge said. "Goes up there with a game plan, sticks to it, has the discipline to stick to it. Different types of pitches that he hits, depending on the pitcher and situation. And he, too, obviously, has a great heartbeat. Just a clutch hitter, and he was everything for us until the end."
It was Bonderman's fifth start of the season. Prior to joining the Mariners, the former Tiger had last appeared in the Major Leagues in 2010 before undergoing Tommy John surgery in April of 2012.
He was enjoying a fine stretch since making his first start for the Mariners on June 2. While he got rocked for seven runs in 4 2/3 innings in that game -- his first start in 975 days -- he'd been almost unhittable since, allowing only two runs over his last three starts.
The smooth sailing continued for Bonderman through the first five innings, but the A's jumped on him in the sixth, and the right-hander didn't finish the inning.
Seth Smith and Jed Lowrie slapped consecutive singles off Bonderman to start off the frame. With two aboard and the dangerous Yoenis Cespedes at the plate, Bonderman nearly generated a double play, but Cespedes' grounder pulled Kyle Seager off third base, and he had to settle for a fielder's choice tag of Smith.
"It was the breaking ball all game," Bonderman said. "I just didn't' have the feel for it at all. I threw one good one and four or five bad ones, basically lived with the fastball all day. You just have to battle through some starts and try to find a way to keep your team in the game."
A single from Brandon Moss loaded the bases, and a wild pitch from Bonderman advanced all the runners and cut Seattle's lead to two. With the next pitch, Bonderman walked Josh Donaldson, and Danny Farquhar was brought in to take care of the bases-loaded jam.
Oakland scored another on Josh Reddick's groundout, but Farquhar was able to keep the one-run lead, getting Jaso to ground out to end the inning.
Brandon Moss hit a solo home run off Farquhar with two outs in the eighth to tie the game. Farquhar had retired the previous seven batters before Moss.
Jacob Thorpe is an associate reporter for MLB.com. This story was not subject to the approval of Major League Baseball or its clubs.