Tribe unable to back Carrasco's short outing in finale
Tribe unable to back Carrasco's short outing in finale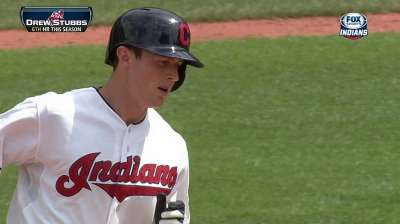 CLEVELAND -- Sometimes it is better to look at the big picture when the results of one particular afternoon do not go as desired. That is the stance the Indians took on Sunday, when the team chose to focus on their successful homestand rather than its forgettable finale.
In the final tilt of a three-game set with the Twins, Indians starter Carlos Carrasco labored in an abbreviated effort and the offense came up short when it mattered most, leading to a 5-3 loss at Progressive Field. That is the small picture. A broader view of Cleveland's recent run includes four wins in the past five games, four consecutive series victories and eight wins in the last 11 contests.
"We lost a tough game today," Indians manager Terry Francona said Sunday. "But if we play like this, we're going to be OK. I'll take our chances. You're disappointed, because you wanted to show up today and win, but I like the way we're playing."
Part of the reason the Indians (38-36) have played well lately has been the contributions of their rotation, which entered the afternoon with a 2.97 ERA over the previous dozen games. Within that sample, Carrasco had seemingly turned a corner, pitching into the eighth inning and holding the Royals to just one run in a no-decision on Monday.
After Sunday's effort, it is hard to know which direction Carrasco is heading.
Against the Twins, Carrasco bowed out of the ballgame after 4 2/3 innings, during which he allowed six hits, issued four walks and ended with three strikeouts and a bloated count of 104 pitches. Carrasco surrendered an RBI single to Josh Willingham in the first inning and consecutive run-scoring hits to Oswaldo Arcia and Trevor Plouffe with two outs in the fifth, sending him on his way to the loss column.
In his first season back from right elbow surgery, Carrasco's results -- he is 0-3 record with a 7.78 ERA in four turns -- have been wildly inconsistent on the big league stage. In monitoring the right-hander's latest performance, Francona still saw signs of improvement.
"The fact that he limited damage and he pitched," Francona said. "We all recognize his stuff. [They were] squaring it up a little bit, and he still found a way. He continued to fight. We left him in in the fifth because we thought he deserved the chance to get out of that inning. They ended up getting the hit, but he's making progress."
The Twins (34-38) tacked on a pair of runs against the Indians' bullpen for some crucial insurance.
Part of the problem on Sunday was the offense's inability to break through against Twins lefty Pedro Hernandez.
Hernandez was promoted from Triple-A Rochester prior to the game to replace injured starter Mike Pelfrey, who was shelved with a back strain. After making the drive from Louisville, Hernandez issued six walks and allowed three hits, but found a way to keep the Indians to just two runs in five innings.
"That's what we were hoping for," Twins manager Ron Gardenhire said. "We didn't know how it was going to turn out in the first few innings, when he walked the bases loaded. We were just hoping he'd give us some innings more than anything else. He got through five pretty good. He gave us the lead, held the lead and we went from there."
Overall, Cleveland ended the afternoon 0-for-7 with runners in scoring position and 10 runners stranded.
The most glaring of the Tribe's missed chances came in the second inning, when Hernandez walked the first three batters he faced in the frame. Indians catcher Yan Gomes came through with a run-scoring sacrifice fly to pull the game into a 1-1 deadlock, but that was all Cleveland managed. Jason Kipnis continued his torrid month with an RBI double off Hernandez in the third inning, but that offensive push was short-lived as well.
"I thought we had some good at-bats," Kipnis said. "I thought we got some guys on base, but we just never got the big hit."
Drew Stubbs launched a leadoff home run off Twins reliever Casey Fien in the seventh inning, but later came up empty with two runners on base and two outs in the eighth. In the ninth inning, Kipnis sent a pitch from Minnesota lefty Glen Perkins off the wall in left field for a two-out double, but Nick Swisher finished off an 0-for-5 afternoon with a game-ending groundout.
Kipnis ended the day 3-for-4, giving him eight multi-hit games in June. The Indians second baseman has hit .476 (20-for-42) in his past 12 games and .400 (28-for-70) in 20 games this month. Kipnis has also reached base via hit, walk or hit-by-pitch in 25 consecutive contests for Cleveland.
"It means nothing if you don't win the game," Kipnis said. "It's nice, but I'd rather have guys on, I'd rather be driven in, I'd rather win games. It means nothing if you don't win."
There is the small picture again.
As the Indians embark on an 11-game road trip through Baltimore, Chicago and Kansas City, Kipnis preferred to concentrate on what the team has done over the past two weeks.
"We still won the series," Kipnis said. "That's still four series wins in a row against some good opponents. It was a tough one today. We didn't capitalize on some opportunities we had early in the game. But, like I said, we still won the series and we still took two of three. We're moving on."
Jordan Bastian is a reporter for MLB.com. Read his blog, Major League Bastian, and follow him on Twitter @MLBastian. This story was not subject to the approval of Major League Baseball or its clubs.