Wedge commends Franklin's aggressive plate approach
Wedge commends Franklin's aggressive plate approach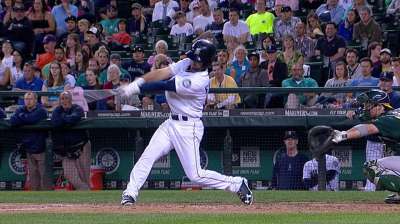 SEATTLE -- In the seventh inning of Saturday's game against Oakland, the Mariners were down, 5-2, and hot-hitting rookie second baseman Nick Franklin was leading off for Seattle.
Franklin swung at a high fastball and popped it up to record the first out. But rather than correct the 22-year old for his mistake born from inexperience, manager Eric Wedge simply complimented him on his hustle. He avoided the coachable moment, because Franklin's aggression at the plate is exactly what he wants to instill in the rest of his team.
"I'm not going to get on him for swinging at a pitch that's up, because he's overly aggressive in that situation," Wedge said. "You can't say 'no fear' if you're going to bust their chops. You can't have it both ways, because there's no perfection. That's what people have to understand -- most importantly, the players."
The next time Franklin came to the plate, he hit a game-winning, two-run single in the eighth to give Seattle a two-run lead. Wedge believes Franklin's aggressive approach is a manifestation of his self-assurance, and that it's the type of confidence that allows a player to shrug off bad at-bats and hopefully, avoid slumps.
"That's the difference maker for him," Wedge said. "That's his attitude. He's a cocky kid, believes in himself. That is one thing that makes him different versus some of the others, without a doubt. That's a positive thing."
Greg Johns is a reporter for MLB.com. Follow him on Twitter @GregJohnsMLB as well as his Mariners Musings blog. Jacob Thorpe is an associate reporter for MLB.com. This story was not subject to the approval of Major League Baseball or its clubs.