Uribe takes hold of third base job with turnaround
Uribe takes hold of third base job with turnaround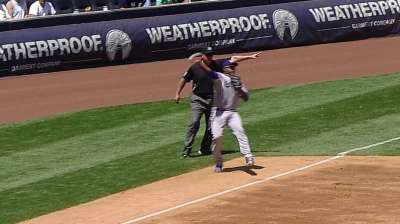 SAN DIEGO -- After two years in which he virtually disappeared, Juan Uribe has essentially won back the Dodgers' starting third base job he was signed to fill.
"We've seen a really different Juan Uribe offensively," said manager Don Mattingly. "He's more patient. This series, he's made great defensive plays. He catches everything. But he's kind of taken the lion's share of the at-bats there."
Uribe is batting .260 with three homers and 15 RBIs. Despite being robbed of extra bases by Chris Denorfia's diving catch on the warning track Saturday, Uribe's on-base percentage is .353, up from .258 last year and .264 in 2011. He has 20 walks in 54 games, compared to 30 walks in 143 games the previous two seasons combined.
Mattingly suggested that changing teams from the Giants to the rival Dodgers probably wasn't the easiest of moves for Uribe.
"That's a difficult transition, like going from the Red Sox to the Yankees. You try to fit in, but you're already one step behind the eight ball," he said. "He struggled, he got hurt. I'm happy for Juan. He's a really good teammate. Never a guy who, if you play somebody else, he makes that guy feel uncomfortable. He was really good to Luis Cruz [who took Uribe's job last year]. He cheers for his teammates. I'm happy he's turned that corner."
Over the final 34 games of last season, Uribe had only one plate appearance, a pinch-hit single. He finished the season batting .191.
Ken Gurnick is a reporter for MLB.com. This story was not subject to the approval of Major League Baseball or its clubs.