Mikolas, Brach arrive in SD to relieve taxed bullpen
Mikolas, Brach arrive in SD to relieve taxed bullpen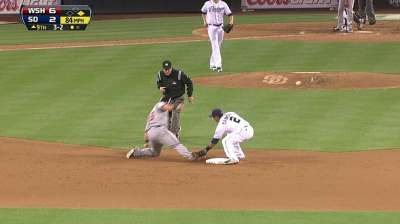 SAN DIEGO -- The Padres made more roster moves Sunday, recalling relievers Miles Mikolas and Brad Brach from Triple-A Tucson, and optioning right-handers Brad Boxberger and Anthony Bass.
The moves come in an effort to replenish the team's bullpen after it had to go nine innings Friday, when Clayton Richard threw only two pitches in his start before exiting with an injury.
"Right now, I think it makes sense to bring some pitchers to help our bullpen sort of reset," said Padres manager Bud Black.
Both Bass and Boxberger threw in Saturday's game against the Dodgers, with Bass working two scoreless innings and Boxberger allowing a run in 1 1/3 innings. So the Padres needed some fresh arms.
It is Brach's second stint with the Padres this season, after starting the season on the Opening Day roster. He went 1-0 with a 4.76 ERA in 19 relief appearances, striking out 17 with eight walks. He was 1-1 with a 4.50 ERA, 16 strikeouts and six walks since being optioned to Triple-A on May 18.
Last season, Brach allowed 10.9 percent of inherited runners to score. This season, that number rose to 37.5 percent.
"Brad would go through periods of at-bats where he was really making pitches, and then an at-bat would get away from him," Black said. "The walk total was a little bit high. We wanted to get his confidence back, he was pressing a little bit early in the year. He had to take a step back and exhale."
Mikolas is making his first stint with the Padres after going 2-1 with 14 saves and a 3.57 ERA for Tucson.
"Especially being a bullpen guy, you pay a little more attention to games, because you know when it comes to this point in the season, they're always going to need fresh arms," he said. "You can start to mentally prepare yourself a little bit for a move."
Mikolas made his Major League debut last season with the Padres, going 2-1 with a 3.62 ERA, 23 strikeouts and 15 walks in 25 relief appearances.
He said Black gave him direction when he arrived to San Diego on Sunday morning.
"Be ready to throw," Mikolas said.
Jamal Collier is an associate reporter for MLB.com. This story was not subject to the approval of Major League Baseball or its clubs.