Prado's rest allows Pennington rare start at third
Prado's rest allows Pennington rare start at third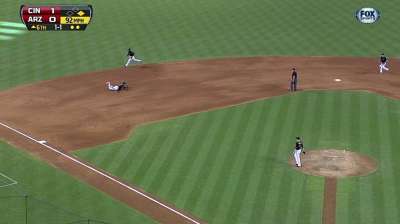 PHOENIX -- For the first time since his rookie season in 2009, Cliff Pennington played third base Sunday as Martin Prado was out of the D-backs' lineup for just the fourth game all year.
"We've been working him out there for several weeks now," D-backs manager Kirk Gibson said before the 4-2 loss to the Reds. "Just looking at the long season, sometimes you need to do different things."
Pennington appeared in nine games at third for the A's in 2008, committing one error in 20 chances.
Pennington made a costly error at third Sunday, booting a groundball off the bat of Devin Mesoraco in the second inning that eventually led to an unearned run.
Sunday marked Prado's first off-day since May 27. On two of the previous three occasions the 29-year-old was out the lineup, he ended up pinch-hitting later in the game. He did not play Sunday. Prado is batting just .167 (12-for-72) in June after hitting .313 in May.
"Prado has been great for us; he has overcome some frustrations," Gibson said. "Everybody knows he wants to do good because of the trade, but we need to get some other guys in there."
Tyler Emerick is an associate reporter for MLB.com. This story was not subject to the approval of Major League Baseball or its clubs.