'Closer for life,' Aroldis remains confident
'Closer for life,' Aroldis remains confident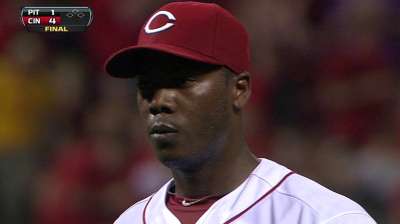 PHOENIX -- Reds closer Aroldis Chapman realizes he might not be very popular with some opposing hitters of late. In recent series, Chapman has buzzed hitters up and in with 100-mph pitches.
It happened against Pittsburgh's Neil Walker on June 17 and late last month against Cleveland's Nick Swisher. Both hitters, and their teams, took exception. Chapman denied there was bad intent behind his inside pitching.
"People will always talk about a high fastball inside," Chapman said Saturday before he blew his third save of the season vs. Arizona. "The only thing I can say is that I don't have any problem with any player or team in any way. I don't have any reason to hit anyone. I try to pitch inside, and, yes, sometimes the pitches stay high. For a fastball pitcher like me, it's good to throw high pitches, and then come back with a backdoor slider. It's part of the game. People misinterpret that, and a lot of players see it as bad, but it's not my intention to hit anyone."
Chapman feels he has tried to avoid controversy by not reacting to being stared down or barked at by the hitters.
"You try to control yourself and be a little bit more civilized than the person yelling things," Chapman said. "I have no reason to say anything, and if I do say something, it's only to say it was 'my bad' or something like that, but it's never to offend anyone. I don't need to get into that. That's just going to bring problems."
On Saturday afternoon, Chapman faced four batters and did not retire any in the ninth inning for a 4-3 Reds loss to the D-backs. The game ended on a bases-loaded, two-run single by Jason Kubel.
They were the first runs allowed and first blown save for Chapman since he gave up back-to-back homers to Erik Kratz and Freddy Galvis in a May 19 walk-off loss at Philadelphia. Chapman realizes his bad outings will be examined closer than some other closers'.
"People will always talk, and in the press, that's their job; I don't pay any attention to it, because I know I can do a good job," Chapman said, again before Saturday's game. "I definitely don't panic, whether it's three or four bad outings. God doesn't want you to be that way. But we are in the highest level of baseball, the Major Leagues, and anything can happen. I've had a few bad outings, but my confidence is not going anywhere."
Chapman had another bumpy ninth inning in Sunday's 4-2 win over Arizona. He retired his first two batters before giving up a run with two hits and a hit batsman. He hung on to notch his 19th save.
During Spring Training, the Reds originally had Chapman compete for the fifth starter's spot against Mike Leake. Ultimately, Chapman remained the closer, and it was something he fully supported then, and now.
"I want to be a closer for life," Chapman said. "I don't know what can happen in the future, but for now, my mentality is that of a closer."
Mark Sheldon is a reporter for MLB.com. Read his blog, Mark My Word, and follow him on Twitter @m_sheldon. David Venn contributed to this report and is a contributor to MLB.com. This story was not subject to the approval of Major League Baseball or its clubs.