Votto battling unfamilar slump in '13
Votto battling unfamilar slump in '13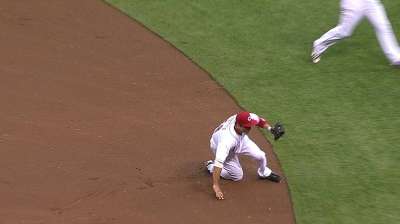 PHOENIX -- Originally considered average to below average at the position, Reds first baseman Joey Votto spent years working on his defense. Votto, who takes defense as seriously as hitting, improved to the point that he was a 2011 National League Gold Glove winner.
That is why Votto has been dismayed with his results on defense this season.
"It's definitely been frustrating for me, and unexpected," Votto said Sunday morning. "It's important for me not to be too concerned about it, because I am making plays on either side of me that I hadn't made in the past."
During Saturday's 4-3 Reds loss, the final two-run rally against Aroldis Chapman in the D-backs' ninth inning began when first batter Paul Goldschmidt hit a one-hopped ball off of Votto's glove that went into short right field.
The play was ruled a single, but it could have easily been an error. Votto could not say whether he should have been given an error there.
"It didn't make me happy that I didn't catch the ball," Votto said.
Votto already has eight errors this season, with his last one coming June 20. His career high is 11 errors, set in his rookie season of 2008.
"Similar to slumps, sometimes they happen in bunches," Votto said. "Probably about five of them -- I clanked a popup; a couple in Pittsburgh where there was a barehand play; a couple of bad hops to my side. All of them are errors and add up. I don't really know what ... is going on. It's not for a lack of work.
"You go through stretches in your career where you don't know why something happens. You try to control it as much as you can, but there is a luck or randomness component or a clumping of bad things all at the same time. There could be a couple of months in my career where I strike out a bunch of times. Those things happen. You have to work through it, find your game and figure out what you did wrong and ways to change that."
Reds manager Dusty Baker realizes there is not much he can do from the dugout as the mistakes happen.
"He practices every day. He practices a lot," Baker said. "Defense is more of a concentration thing than anything. The guy is working on it."
Mark Sheldon is a reporter for MLB.com. Read his blog, Mark My Word, and follow him on Twitter @m_sheldon. David Venn contributed to this report and is a contributor to MLB.com. This story was not subject to the approval of Major League Baseball or its clubs.