Archer's turnaround leads Rays to win over Yanks
Archer's turnaround leads Rays to win over Yanks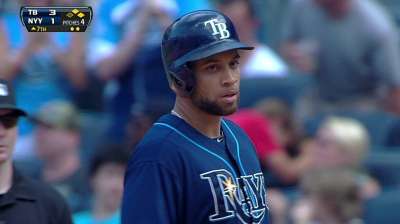 NEW YORK -- A different Chris Archer showed up for work at Yankee Stadium on Sunday.
And led by the efforts of the rookie right-hander, the Rays claimed a 3-1 win over the Yankees to split their four-game series.
"Archie was really, really good," manager Joe Maddon said.
The victory improved the Rays to 39-37 on the season, and they finished their road trip with a 3-4 mark.
Both teams scored in the first -- the Rays on a Ben Zobrist RBI single, and the Yankees on a sacrifice fly by Robinson Cano.
A lot of zeros followed, as Archer and Yankees starter Ivan Nova carved up each lineup.
Archer, who has top-of-the-rotation-type stuff, struggled with his command in most of his starts this season, but on Sunday he used just 64 pitches through four innings. In contrast, he needed 109 through 4 2/3 innings against Boston on Tuesday.
"[Pitching coach Jim Hickey] and I talked about some things," Archer said. "Since my past few starts were not efficient or effective, I was able to apply [the lessons] right away today. If I did fall behind or feel a little off, I was able to go to those couple of things we talked about and implement them right away."
At no time was the change in Archer more apparent than in the fifth inning. Ichiro Suzuki stood on second representing the go-ahead run with two out and Cano at the plate facing a 2-2 pitch. Archer proceeded to deliver a 96-mph fastball that Cano could only watch. Archer had already begun to walk to the dugout by the time home-plate umpire Alan Porter called strike three.
"It actually ended up right across the middle," Archer said. "I was trying to go in, and it leaked back over the middle, so I knew."
Tampa Bay finally chased Nova in the seventh inning after he hit consecutive batters, Desmond Jennings and Zobrist, to put runners at first and second with two outs. At that point, Yankees manager Joe Girardi brought in right-hander Shawn Kelley to face the hot-hitting Evan Longoria, who walked on five pitches to load the bases.
Girardi then brought in left-hander Boone Logan to face the left-handed-swinging James Loney.
Logan got ahead in the count, 1-2, then Loney slashed a single to the left side to drive home Jennings and Zobrist for a two-run lead.
"It's just a reaction, you know," Loney said. "I saw a pitch that I liked."
Because the Rays had taken the lead, Maddon opted to let Jake McGee take over for Archer to start the seventh.
"The way that [inning] played out, and it got so long, it was 90 pitches, he's sitting inside, at that point I thought he'd fulfilled his mission," Maddon said. "If we were still [tied], he would have gone back out there for at least the first two guys [in the seventh]."
Archer's line resembled more of what the Rays think he can deliver this season and in future seasons, as he allowed one run on six hits, with a walk and four strikeouts in six innings to claim his second win.
"Basically, [Archer] was making pitches when he had to make pitches," said Yankees left fielder Zoilo Almonte through an interpreter. "He was throwing everything pretty well, but especially his curve at the end. Everything was working for him."
McGee came through with a scoreless frame, as did Joel Peralta, who pitched the eighth. Both had tough outings in Saturday afternoon's loss, which made Sunday's results even sweeter.
"[Being used] made me feel really good," Peralta said. "And thanks to [Maddon] for putting me back out there. That means a lot to me, that he still has confidence in me."
Fernando Rodney, who had not pitched since Wednesday, struck out the side in order in the ninth to preserve the win and claim his 15th save of the season.
Tampa Bay remains tied for last place with Toronto, which defeated Baltimore, 13-5, on Sunday to claim its club-record 11th consecutive win, but Maddon doesn't believe his team is in a bad position.
"We're not bad in the loss column," he said. "It's basically pretty tight right now. And so we'll just keep that in mind. I know we're sitting at the bottom right now, but that could flip easily within the next two weeks."
Bill Chastain is a reporter for MLB.com. This story was not subject to the approval of Major League Baseball or its clubs.