Options big reason why Getz sent to Triple-A
Options big reason why Getz sent to Triple-A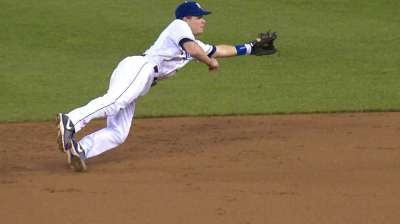 KANSAS CITY -- Second baseman Chris Getz, more than anything, was demoted to Triple-A Omaha because he happened to have Minor League options remaining.
"Getzy didn't get sent down because of poor performance," manager Ned Yost said. "He was hitting .214, but you go back and look at a lot of those games we won and Getz was right in the middle of it in some way, some form, some shape. And that's what you want -- you want your players to go out and just do something today to help us win."
Yost has said that Elliot Johnson is expected to get the majority of playing time at second base, but that Miguel Tejada will be used there as well.
"I think everybody wants to have the opportunity to play every day, but it all depends on how you hit," Johnson said. "If you can hit consistent, you'll play consistent. If you don't, then you've got to be a super-U [utility] guy. It's kind of the way it works and I understand that.
"I'm not going to put more pressure on myself because now they've sent Getz down. They can call him back up anytime and so I'll go out there and play my game, and that's all I'm going to do."
Dick Kaegel is a reporter for MLB.com. Kathleen Gier is an associate reporter for MLB.com. This story was not subject to the approval of Major League Baseball or its clubs.