Pestano holding steady after encountering troubles
Pestano holding steady after encountering troubles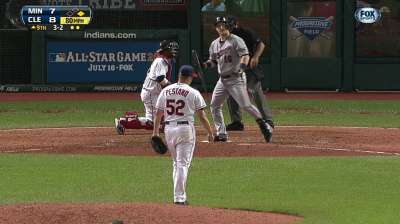 CLEVELAND -- Vinnie Pestano is a perfectionist. Even at his best, the Indians reliever typically finds areas that he wants to improve. It goes without saying then that the right-hander's struggles this season have weighed heavily on him.
Pestano admitted as much following Saturday's 8-7 victory over the Twins.
"This season hasn't been anything other than challenging for me so far," Pestano sad. "I've definitely taken my lumps and my bruises. It's been the most difficult that I can remember in quite some time."
Pestano, who has been filling in as Cleveland's closer while Chris Perez recovers from his right shoulder injury, allowed two runs, two extra-base hits and issued a walk in a drama-filled save on Saturday night. Two outings prior to that showing, Pestano allowed four baserunners, but sidestepped damage in a 4-3 win over Kansas City.
Earlier this season, Pestano was shelved due to a right elbow issue, which has since convinced him to alter his routine between appearances. The right-hander is throwing more consistently on the side if he is not being used in games -- an approach aimed at keeping his arm more fresh. During Saturday's outing, Pestano sat around 90-93 mph with his fastball, showing no signs of diminished velocity.
Pestano just chalked it up as a bad night at the office.
"I feel good when I'm out there," Pestano said. "I've thrown a lot lately, either getting up to get in the game or throwing. But I don't think that had anything to do with [Saturday's performance]. I felt fine when I was on the mound. ... I pitched in the same conditions everybody else did. A lot of guys went out there and got some big outs, made some big pitches.
"I felt like I was making good pitches. [The Twins] were just on them. I don't really have any other explanation."
In his eight appearances leading up to Saturday's game, Pestano has posted a 1.13 ERA with a .233 opponents' batting average and a strike rate of 63 percent. That was a considerable improvement over the previous four appearances, during which the righty had a 13.50 ERA with a .333 opponents' batting average and a strike rate of 58 percent.
On the season, Pestano has a 4.50 ERA with an uncharacteristically high 1.41 WHIP in 22 innings. Over the 2011-12 campaigns, he had a 2.45 ERA and a 1.08 WHIP in 137 games for Cleveland.
Indians manager Terry Francona felt Pestano's stuff looked fine in his showing against the Twins.
"I actually thought Vinnie threw the ball better," Francona said. "I thought he was more crisp [Saturday] than he has been before. He just made a couple mistakes."
Jordan Bastian is a reporter for MLB.com. Read his blog, Major League Bastian, and follow him on Twitter @MLBastian. This story was not subject to the approval of Major League Baseball or its clubs.