J-Up not in lineup for second straight game
J-Up not in lineup for second straight game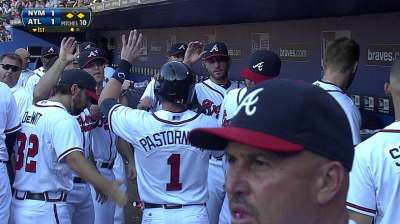 MILWAUKEE -- Justin Upton was held out of the starting lineup for a second consecutive day Sunday due to what Braves manager Fredi Gonzalez called a sore right hand.
Gonzalez had said before Saturday's game that Upton was being given a breather, but he acknowledged on Sunday that Upton's hand has been bothering him for a couple of days.
"It's just his right hand, just a little sore," Gonzalez said.
The manager said Upton was available to play, but the team would hold him out of the starting lineup in hopes of giving him three consecutive days off, including Monday's off-day.
"If we don't have to use him, we won't use him," Gonzalez said. "We'll match him up with the right guy. We thought that with yesterday and today, and tomorrow the scheduled day off, we would turn the corner and really be fine. Obviously, he could play the field, but the more time we give him off, the better he'll be."
Jordan Schafer started in Upton's place for the second consecutive game.
Joe DiGiovanni is a contributor to MLB.com. This story was not subject to the approval of Major League Baseball or its clubs.