Figaro's rough start digs hole; Crew can't finish sweep
Figaro's rough start digs hole; Crew can't finish sweep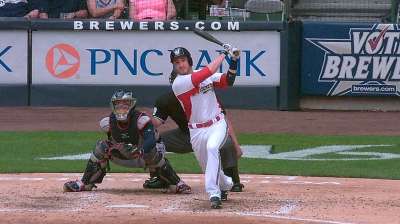 MILWAUKEE -- The Brewers entered Sunday with a chance to sweep the National League East Division-leading Braves in a three-game set at Miller Park
But Atlanta salvaged a game in the weekend series behind Brian McCann's grand slam and solo home runs from Chris Johnson and Jordan Schafer to win, 7-4, and the Brewers just felt fortunate enough to leave with good news on Carlos Gomez's left shoulder injury he suffered in the fourth inning.
In the fourth, Gomez left the game with what the Brewers are calling a left shoulder sprain while making a leaping catch on an Andrelton Simmons' drive to center field. Gomez fell back awkwardly, pinning his left arm to the wall. He immediately grabbed his shoulder while lying on the warning track and he grimaced all the way to the Brewers' dugout.
After the game, Brewers manager Ron Roenicke said X-rays did not show anything more serious for Gomez, and the center fielder said an MRI would not be necessary.
"Calling it a sprained shoulder right now, so hopefully it's not going to be too bad," Roenicke said. "It could be a couple days, it could be a week. We'll know more tomorrow when they take a look at him. At least [we know from] the X-rays, it's not anything bad."
Before Gomez's injury, the Brewers' main issue seemed to fall back to the pitching a day after they completed their second straight shutout of the Braves. Starter Alfredo Figaro was not as sharp as Brewers' pitchers the previous two days, who recorded Milwaukee's second and third shutouts of the year.
A third consecutive shutout was not in the works for very long, as McCann lifted a 2-1 fastball into the Brewers' bullpen in left-center field with two outs and the bags full for his 10th grand slam.
"It was big," McCann said. "To go to left-center -- usually in my career, I don't hit the home runs that way. I'm working hard to stay on the ball, and luckily today I put a good enough swing on it to go that way."
The Braves pounded 14 hits and each of their eight starting position players reached base.
Johnson and Schafer added solo homers in the second and fourth innings, respectively, to give the Braves a comfortable 6-0 lead.
Figaro, who made his fifth start of the season, lasted just 3 1/3 innings and surrendered his 11th, 12th and 13th home runs in 54 1/3 innings pitched this season. All three Atlanta homers came on fastballs.
"He was leaving balls up in the zone, not hitting his spots," Brewers catcher Jonathan Lucroy said. "The home runs were on missed location. All home runs are on mistake pitches. He does throw hard, but if you don't execute, it doesn't matter."
Figaro could not locate his offspeed pitches, allowing the aggressive Braves to jump all over his fastball.
"Most of the offspeed pitches he did throw were up, and he can't pitch that way," Roenicke said. "If he's not throwing a lot of offspeed or at least enough to get them off the fastball, they know they only have one pitch to look for. And if he makes a mistake, they're going to hit it well."
The Brewers made the game interesting, though, tacking four runs on the board against Atlanta starter Paul Maholm in the fifth inning. After reliever Tom Gorzelanny singled and Jean Segura doubled, Gomez's replacement, Logan Schafer, brought them both home with a single up the middle.
Lucroy then brought Milwaukee to within 6-4 with his eighth home run of the year, a mammoth 428-foot shot halfway up the batter's eye below the center-field scoreboard.
But the Brewers fell short in their final chance in the seventh inning.
Trailing by two with two outs, the Brewers loaded the bases and called on left-handed pinch-hitter Juan Francisco. The Braves countered with right-hander Jordan Walden out of the bullpen, and he got Francisco to sky the second pitch he saw straight up in the air and down into McCann's glove.
The Braves added an insurance run in the ninth on a Dan Uggla RBI single off Jim Henderson, and Craig Kimbrel came in and nailed down his 21st save in 24 opportunities by striking out Norichika Aoki and Segura, and coaxing a weak lineout from Logan Schafer in the ninth inning.
Jordan Schafer finished 4-for-5 for the Braves, and Segura and Jeff Bianchi each had two hits for Milwaukee.
The loss snapped the Brewers' eight-game winning streak over Atlanta, but for Roenicke, taking two out of three from the Braves was a positive.
"I think it was a good series," Roenicke said. "We had bases loaded and had a chance to [get a] base hit to tie it, and something better than that, we go ahead. We still battled and came back, so I like the way we did that and had some good relief pitching today.
"Things are OK."
Kevin Massoth is an associate reporter for MLB.com. This story was not subject to the approval of Major League Baseball or its clubs.