Cisnero garners Porter's trust in big situations
Cisnero garners Porter's trust in big situations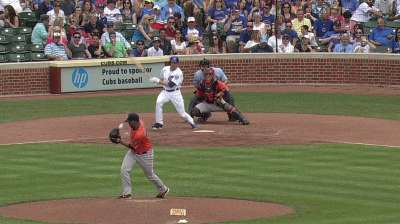 CHICAGO -- Astros manager Bo Porter called right-hander Jose Cisnero's two-inning effort in Saturday's 4-3 win over the Cubs the young reliever's graduation day.
Porter said Cisnero will more than likely serve as his go-to guy for tough situations for the near future.
"He's proven us right many times already," Porter said. "There's nothing that's going to stop us from putting him into any situation because he's responded quite well. You look at his demeanor on the mound, and it doesn't change. He continues to make quality pitch after quality pitch, and we have all the trust in the world and belief that he can get the job done."
Cisnero pitched his way into a jam on Saturday with the game tied at 3 in the eighth. Alfonso Soriano hit a one-out double down the left-field line and the 24-year-old Dominican promptly intentionally walked the next batter, Cubs slugger Anthony Rizzo. Before delivering to Cubs center fielder Ryan Sweeney, Cisnero turned and fired to second baseman Ronny Cedeno on a pickoff attempt and Soriano was called out on a controversial play.
Cisnero allowed the next two batters to reach, but he induced a Darwin Barney popup to end the inning unscathed and preserve the tie long enough for the Astros to manufacture the winning run in the ninth.
Cisnero's season started with Triple-A Oklahoma City, but he was called up on April 22. After picking up the win on Saturday, he's now 2-0 with a 2.20 ERA and 28 strikeouts in 32 2/3 innings.
"Gradually, we've put him into some more intensified situations, and he's answered the bell every time," Porter said. "I think moving forward, he's gaining more confidence, we're gaining more confidence in him, and we believe that he'll be a vital part of the success of this organization for many years moving forward."
Ethan Asofsky is an associate reporter for MLB.com. This story was not subject to the approval of Major League Baseball or its clubs.