Gomes subs for slumping Nava; Salty gets rest
Gomes subs for slumping Nava; Salty gets rest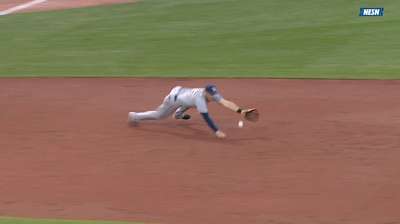 DETROIT -- A bright spot for the Red Sox for most of the season, Daniel Nava now finds himself in a 5-for-37 slump that has brought his average from .300 to .275.
Nava got a rare day off against a right-hander on Sunday, as Jonny Gomes instead made the start in left field against Tigers ace Justin Verlander.
"You might say with Verlander going on the mound, why do you not try to load it with left-handers?" Boston manager John Farrell said. "But he's probably been a little more difficult against lefties than righties. We need to put together the best game that we can. We're going against another outstanding starting pitcher. We've got our hands full again here today."
Catcher Jarrod Saltalamacchia, who caught 27 innings in two days earlier this week, was also out of the lineup.
That gave Ryan Lavarnway a chance to start. With David Ross out with a second concussion, Lavarnway is getting another chance to prove he can play in the Majors.
That didn't go so well last season, when Lavarnway hit .158 in 153 at-bats.
"Last year was the most number of games he's caught in his career," Farrell said. "He might have been a little worn down towards the end of the season. He's shown good energy behind the plate. His receiving and throwing, I think, are markedly improved over last September. He's always been known as an offensive type of catcher.
"He's shown the ability to handle some quality stuff and did in Spring Training, even though the offensive numbers might not have been there. I thought he did a good job receiving and throwing in Spring Training."
Ian Browne is a reporter for MLB.com. Read his blog, Brownie Points, and follow him on Twitter @IanMBrowne. This story was not subject to the approval of Major League Baseball or its clubs.