Frandsen has history with walk-off victim Torres
Frandsen has history with walk-off victim Torres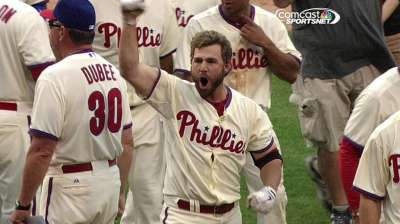 PHILADELPHIA -- Kevin Frandsen's walk-off homer Saturday did not come without its own share of history.
Frandsen hit the towering shot, which made the Phillies 8-7 winners against the Mets, off Carlos Torres, a fellow San Francisco Bay Area native. Frandsen, whose heroics came in a pinch-hitting role, said he's faced Torres a handful of times, dating back to when he was a junior in high school.
It was Frandsen's first career walk-off homer in the Majors, and according to the San Jose, Calif., product, his first home run to end a game since he was playing in a summer league during college. Ironically, that home run, Frandsen said, came against a team that Torres was a part of.
"You know the funny thing? It was probably his summer league team in college," Frandsen said. "I hit one against them. That was the last time I hit a walk-off homer."
Frandsen was hitting .280 in 45 games this season entering Sunday, and Saturday's blast was his second walk-off hit of the season. His three-run double lifted the Phillies against the Royals on April 6.
Stephen Pianovich is an associate reporter for MLB.com. This story was not subject to the approval of Major League Baseball or its clubs.