Morales to undergo exam Monday in Boston
Morales to undergo exam Monday in Boston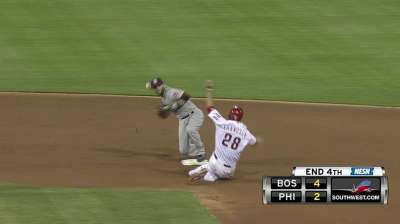 DETROIT -- Given the timing -- the final day of a road trip with an off-day looming on Monday -- the Red Sox elected not to make a roster move with ailing lefty Franklin Morales before Sunday's game against the Tigers.
Instead, the Sox will have Morales undergo a full exam under the watchful eye of their doctors back in Boston before the team decided for sure to put him on the disabled list.
Given the recent history of injuries that Morales has suffered, it seems far more likely than not that he will go on the DL.
"We felt like coming out of last night, our bullpen is in good shape as far as getting through today, and tomorrow being an off-day as well to catch up," said manager John Farrell. "Franklin will go through more of a complete exam tomorrow. He doesn't feel any drastic improvement coming out of last night's game. He'll go through a complete workup tomorrow and then determine if there's a roster move at that time."
Clayton Mortensen (right groin strain) will soon rejoin Boston's bullpen, but he isn't eligible to come off the DL until Wednesday.
"Given the day of the week, and in fairness to Franklin, we've got to take him through our normal process before we make any roster decisions," Farrell said.
The injury could be related to the soreness Morales felt in his pectoral muscle during his Minor League rehab assignment.
"Yeah, I think it's in the same general area, but until we get the MRI, [then] we'll know more specifics, if it concurred with what he dealt with in the past or if it's something different in addition to it," Farrell said. "But he still feels some of that discomfort this morning."
Ian Browne is a reporter for MLB.com. Read his blog, Brownie Points, and follow him on Twitter @IanMBrowne. This story was not subject to the approval of Major League Baseball or its clubs.