Sveum ponders expanded replay after close call
Sveum ponders expanded replay after close call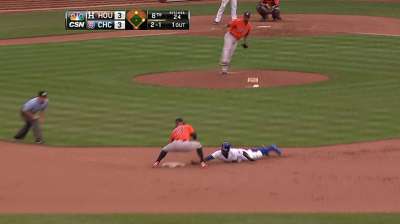 CHICAGO -- Cubs manager Dale Sveum isn't sure he'd like to see more instant replay in baseball. On Saturday, though, a check of the video might have overturned a crucial call at second base.
With one out in the eighth on Saturday, Alfonso Soriano doubled and one batter later was picked off at second on a close play. It appeared he got his hand on the base before the tag. Second-base umpire David Rackley didn't think so, and called Soriano out.
"It's a bad call, but I have a lot of respect for the umpires," Soriano said. "It's not an easy job."
What if there was instant replay for something like that?
"More than anything, you'd have to do something in regard to the NFL, like you have two challenges -- one in the first five innings, one in the last five, whatever it might be, and the last two minutes everything is under review," Sveum said. "You could open up so many things with replay."
Wouldn't that make the game even longer?
"If you did go to whatever format possible, you'd have to have somebody in the [press box] with some kind of microphone, who'd say, 'You got it wrong,' or 'You got it right,' whatever it is, instead of four guys going in to check it themslves. There would have to be an extra guy watching, and you'd get it done in 30 seconds."
Is Sveum in favor of more instant replay?
"I don't know," he said. "I know they're thinking about it and what avenues they can go down with that. At certain times, yeah, you could use it. For the most part, it's the game, and that's the world we live in."
Carrie Muskat is a reporter for MLB.com. She writes a blog, Muskat Ramblings, and you can follow her on Twitter @CarrieMuskat. This story was not subject to the approval of Major League Baseball or its clubs.