V-Mart showing signs of midseason rebound
V-Mart showing signs of midseason rebound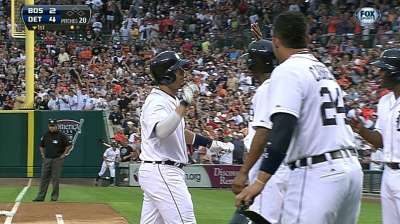 DETROIT -- Victor Martinez usually doesn't make too much about hitting into luck, good or bad. After his grand slam landed in the first row of seats in right field Saturday night, however, even he couldn't help but believe his karma had taken a turn for the better.
"I'm not gonna lie, I hit some good balls that didn't get caught," Martinez said.
There are advanced metrics that back up his argument on that. ESPN Stats and Information cites a data provider that categorizes balls put in play by how hard they're hit. While the average Major League hitter has a batting average well above their rate of "hard-hit" balls, Martinez's .231 batting average has actually been well below his hard-hit rate. At the same time, Martinez's line-drive rate of 19 percent, according to baseball-reference.com, would suggest a much better average.
Moreover, Martinez's batting average on balls put in play is just .237, 74 points below his career rate and 59 points below the American League's average.
"We see it every day," teammate Max Scherzer said. "Vic keeps hitting the ball hard at people, all the time. Guys just keep robbing him. For him to step up and hit that first-inning grand slam, that just changed the game. Kudos to him."
His manager is hoping it changes his season.
"If he hits like that, we'll be real good," Jim Leyland said. "He's shown signs of coming forth a little bit, he's hit a lot of balls hard, but he hasn't got hits on them, so he's hit in some tough luck. He's had some days where he hasn't really swung that good. It doesn't have to be of that magnitude [Saturday] night, but if we can get him going really good, it's a pretty impressive lineup."
Jason Beck is a reporter for MLB.com. Read Beck's Blog and follow him on Twitter @beckjason. This story was not subject to the approval of Major League Baseball or its clubs.