Sweeney drives in six as Cubs rout Astros in finale
Sweeney drives in six as Cubs rout Astros in finale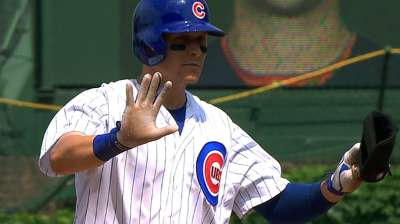 CHICAGO -- Ryan Sweeney is taking full advantage of every day and every at-bat.
Sweeney nearly doubled his RBI total for the season on Sunday, driving in a career-high six runs, including three on his third home run of the year, and Anthony Rizzo knocked in four, adding a two-run homer in the eighth, to back Jeff Samardzija and lead the Cubs to a 14-6 Interleague victory over the Astros at Wrigley Field.
Maybe the Cubs should switch to the American League. With the win, they're now 8-3 against AL foes this season.
The season-high 14 runs and 16 hits helped Samardzija, who scattered nine hits over seven sweaty innings for his second straight win. The right-hander was coming off an impressive victory over the Cardinals in St. Louis.
"Every big outing, he's stepped up," Cubs manager Dale Sveum said. "It's the other games we have to get him to have the same intensity all the time. Having him on the mound and his mentality every day, you love playing behind a guy like that."
Samardzija had to adjust quickly against Houston. He didn't have much opportunity to use his go-to splitter.
"They were swinging pretty aggressively pretty early and not really letting me get to it," Samardzija said. "I didn't have to rely on it that much today, so a couple times when I did need it for a punchout, it was up a little bit."
The Cubs, who have the second-worst average with runners in scoring position in the Majors, were 1-for-16 in those spots in their last four games. On Sunday, they went 6-for-11.
"[Hitting is] very contagious," Rizzo said. "We gave ourselves opportunities. We have to keep giving ourselves those opportunities."
Astros starter Jordan Lyles, who made his Major League debut at Wrigley on May 31, 2011, was charged with eight runs (five earned) over five innings. He'd given up eight earned runs over his last seven starts combined.
"I think we got him to throw a lot of pitches and his velocity started to go down from 94-95 to 90-91, so that's a huge advantage for us to get a guy," Sweeney said. "Coming in, the scouting report said he threw 50, 60 percent fastballs and today he was throwing a lot of offspeed stuff. I felt we made him get away from his strength of the heater and made him throw more offspeed stuff."
Sweeney, who has taken over center field while David DeJesus heals from a sprained right shoulder suffered June 14, is making the most of his time in the lineup. He hit a run-scoring groundout in the second to drive in Rizzo and RBI doubles in the third and in the fifth before launching a three-run homer in the seventh.
"I got into some good hitters' counts, got some guys on base at second and third," Sweeney said. "The first copule weeks haven't been so good with runners in scoring position, but the last couple games, I've been trying to focus on that and get those guys in when we need to."
Signed by the Cubs to a Minor League contract after he was released by the Red Sox in late March, Sweeney helped the Cubs win their first home series since taking both games of a two-game set against the White Sox May 29-30.
This is a big year for the 28-year-old left-handed hitter from Cedar Rapids, Iowa.
"I haven't been able to play every day for the last couple years," he said. "I've always been looking for the opportunity to be an everyday player again. I just think you get more in a groove and you get your swing, and you can work on things when you're an everyday player."
Sveum is happy so far.
"He's a two-way player, he's a left-handed hitter who can hit the ball out of the ballpark, even though he hasn't done a lot of that in his career, but he's always been a guy who sees pitches and is a heck of an outfielder," Sveum said of Sweeney. "The key thing we don't have in the organization is left-handed bats, and he brings that facet to the game."
The game was a little sloppy on both sides. In the Chicago third, Samardzija singled to lead off, Luis Valbuena was safe on an error by shortstop Marwin Gonzalez and Starlin Castro walked to load the bases. Nate Schierholtz lined a single to center, driving in two, and one out later, Rizzo hit a sacrifice fly to open a 4-0 lead. Sweeney then added an RBI double.
The Astros scored three runs in the fourth, including one on a throwing error by Castro.
Rizzo, who cut his curly hair before the game, belted his home run with one out in the eighth, and now has hit safely in four of his last five games. This was is first multi-RBI game since June 5. Maybe the new look had something to do with it?
"I'm not superstitous at all," Rizzo said. "It was just very coincidental."
It has to be cooler without all the hair, which is now tucked in a plastic bag in his locker. Samardzija, who hasn't considered a trim of his long hair, said he didn't mind having to sit in the dugout during the long innings.
"They were getting their work in running around the bases," he said of his teammates. "I'll sit in there and watch that all day long."
Carrie Muskat is a reporter for MLB.com. She writes a blog, Muskat Ramblings, and you can follow her on Twitter @CarrieMuskat. This story was not subject to the approval of Major League Baseball or its clubs.